A Day in the Life
It's a scene repeated around the world every day, children waking up and readying themselves for a new school day. In Cambodia, it likely looks a bit different than in your hometown. Today, we want to take you on the journey faced by the more than 6,800 students at our schools. 
These days, and the bright futures they enable, are made possible by your generous donations to Caring for Cambodia. Often, we show you the pictures of the schools, talk about the important teacher training, and the desperately needed clean water, food, and hygiene but behind every picture of a smiling CFC student is a story like that of these girls.
A story of a child receiving an education that will give them a chance to pull not only themselves but their families out of poverty. A story of a child who has hope.
For 14-year-old Samnang, a sixth-grader at Aranh Primary School, the day begins early as she rises at 5:30 a.m. to help her mother. The family has a small store where they sell vegetables and it is Samnang's responsibility each morning to clean the vegetables to prepare them for sale. Finally, work complete, Samnang is able to change into her school uniform. Her white shirt, so carefully cleaned after each school day, and blue skirt begin her transformation from dutiful daughter to eager student.
Setting off for the nearly 2-mile walk to school, Samnang slings her backpack over her shoulders sets out for the long walk alone. The streets along the way are muddy and the sides often littered with plastic bottles and other waste, but at nearly every house she is greeted by the warm smiles and waves of neighbors.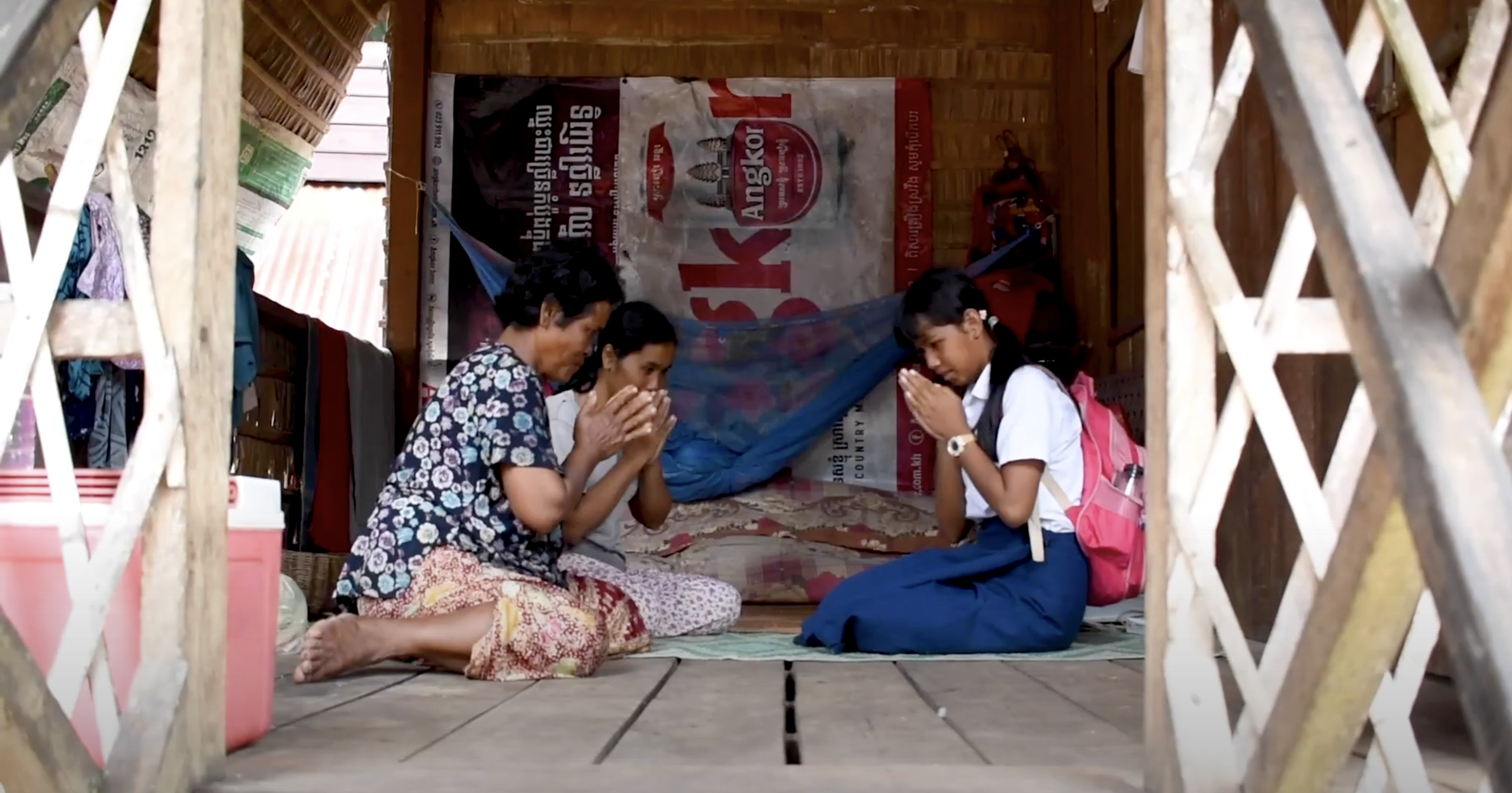 The journey is much the same for Raksmi and Raksmey, nine-year-old twins who attend Amelio Primary School, though a bit shorter for them at just one mile. The girls have each other for company on the walk and often hold hands as they make their way to school. They walk carefully to avoid the muddy ruts in the road and the motorbikes and Tuk-Tuks that zoom past. The girls' father, a construction worker, and their mother, a homemaker, struggle to make ends meet but are determined to see the girls receive an education.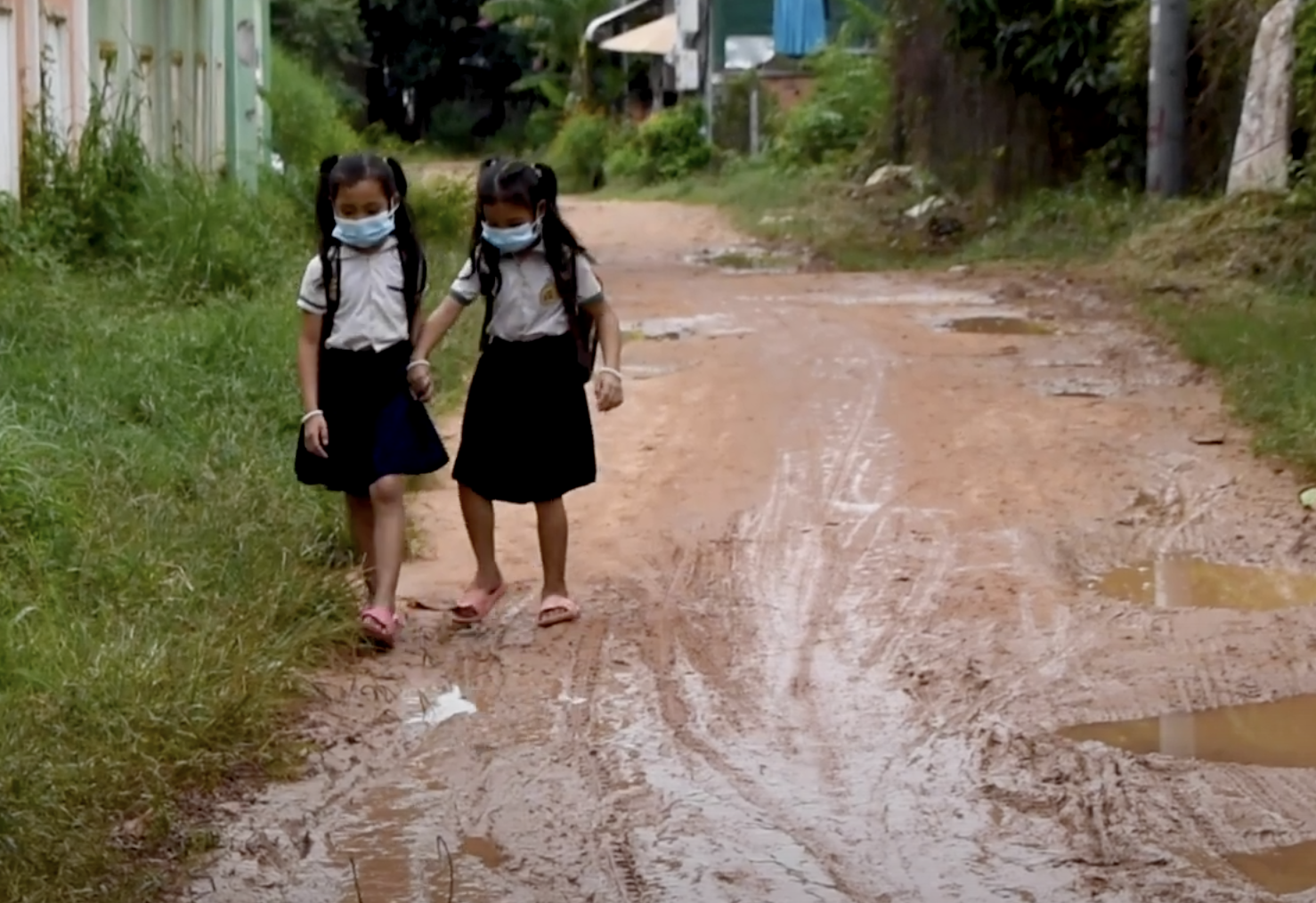 Once at school, Samnang, Raksmi, and Raksmey must pass a temperature check before entering campus and making their way to class. Once through the campus gates, the sound of giggling classmates fills the air. The first stop is often at the open-air covered cafeteria where a bowl of fresh, local vegetables and rice packed with supplemented vitamins and minerals is served. Many of the children spice the meal up with fish sauce or chili sauce as they desire.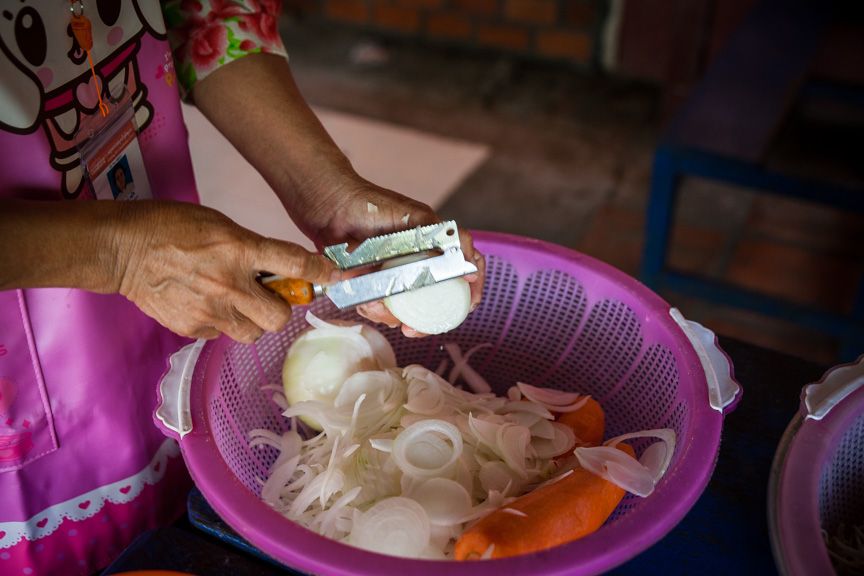 Arriving at their classrooms, each student removes their sandals and lines them carefully outside the door before greeting their teacher and finding their way to a seat. For each grade, the academic day is different but every CFC student enjoys an environment that is not only safe and clean but also bright and engaging. Their teachers are well trained, books and classroom supplies are provided, and clean water and hygiene facilities are provided.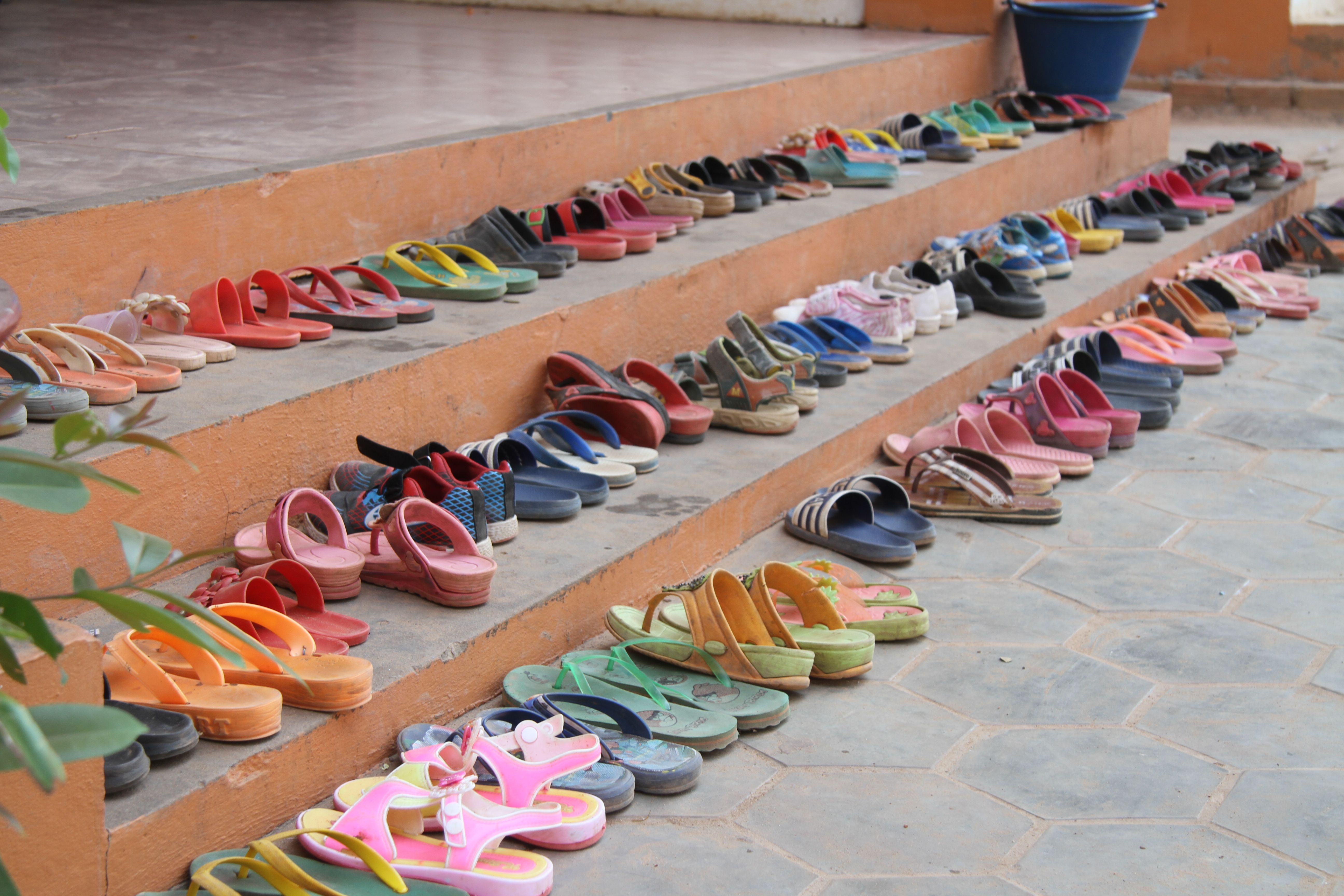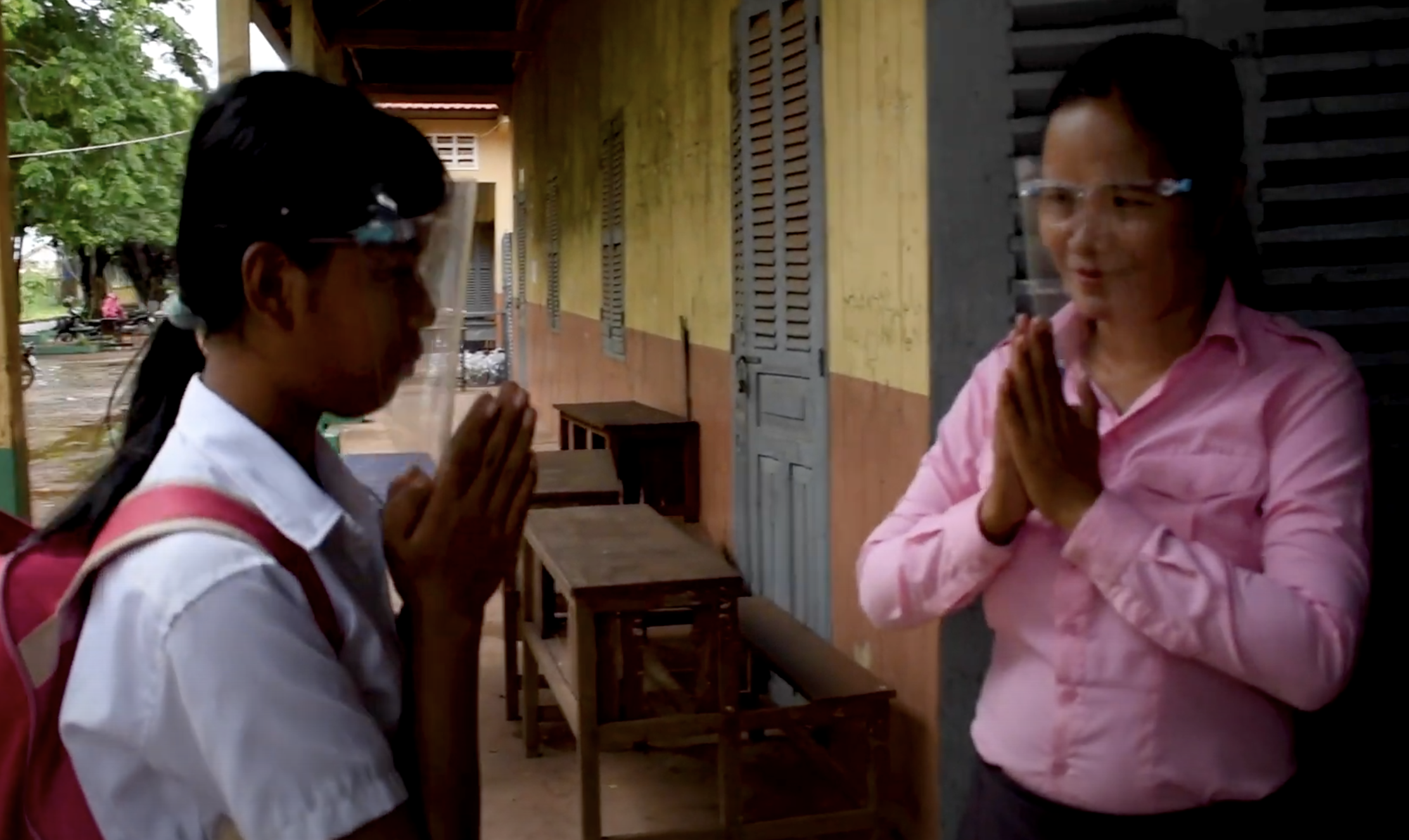 At the end of the day, our students begin the trek home and help their mothers and fathers with chores or work at a job to help support their family. The twins will help care for their brother and two sisters while Samnang will go to work at the vegetable store and help care for her siblings before settling down to do her homework. 
The days are long, the obstacles many, but for the children at Caring for Cambodia's schools the effort is well worth the sacrifice. In their smiles, you can see the joy of learning and the determination to succeed.
Thanks to you and your support, our students have the ability to hope and the tools they need to achieve their dreams. 
Overcoming Obstacles
For all our students, this year is a bit different as temperature checks at the school gates and masks or face shields are required but what hasn't changed is their desire to learn.
In Cambodia, obstacles to learning are all too prevalent. At Caring for Cambodia, we break down those obstacles for our students because we believe every child deserves access to education. 
Here are some of the obstacles faced by children like Samnang, Raksmi, and Raksmey and the ways your donation to CFC helps eliminate those obstacles;
Food - According to government statistics, 13.5 percent of the country's population lives below the poverty line, defined as those who make less than $1.90 per day or $693 per year. More than 90 percent of the country's poor live in rural provinces like Siem Reap. Enormous pressure exists for children to work instead of going to school so they can earn enough money to feed themselves and reduce the burden on the family. At CFC, we provide two nutritious meals a day so our students can be well-fed and educated. For many families, this means the difference between school or not for their child. $30 feeds a CFC student for an entire year.
Transportation - Cambodian schools serve vast areas, with many children forced to travel several miles just to get to school. Some are lucky enough to be able to catch a ride on a moped from their parents but the majority of families can't afford a moped. For these children, we provide a bicycle they can use to get to school, and suddenly a child in danger of dropping out of school is able to continue building a future of hope and education. As a bonus, the family will make use of the bicycle on the weekends to get to the market or take goods to be sold at the market. $60 provides a bicycle to a CFC student.
Health - Hunger isn't the only thing holding back kids in Cambodia, often basic hygiene skills and the ability to afford such necessities as toothbrushes or soap are also a challenge. CFC's health curriculum is a role model for the entire nation and our generous donors allow us to send each child home with a hygiene packet containing soap, a towel, toothpaste, toothbrush, and more! 
Uniforms - Many children in Cambodia drop out of school because they can't afford the simple blue pants or skirt and white shirt uniform mandated by the government. For lack of a $10 dollar uniform, children forfeit an education that can change their lives and break the cycle of poverty. Students who can't afford a uniform are provided one by CFC thanks to the generosity of our donors. You can see the pride the children take in going to school by looking at their uniforms. Many have just one uniform but it is always clean and ready to be worn to school each day.
The list of what we provide goes on and on, from teacher training and classroom supplies to textbooks and technology labs, and we're proud to be recognized by Cambodia's Ministry of Education, Youth and Sport as the model for the nation's school. We're bringing hope and education to a generation of Cambodian children by helping build an educational system ruined by genocide and war. 
By supporting Caring for Cambodia, you are helping rebuild an entire country, your donation and our students' determination will bring lasting change to these families and to Cambodia. Thank you for your generous support!