Removing Barriers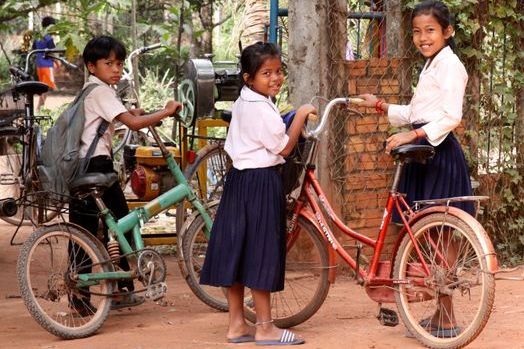 CFC's supportive programs make it possible for children to attend school. According to a UNESCO study, almost a quarter of Cambodian students aged 7-14 are forced to leave school to work. Parents withdraw children from school in part because they cannot afford the cost of textbooks, transportation, uniforms, and school supplies.
CFC provides the necessary tools for children to successfully pursue education, including the most basic items: something to write with and something to wear!
How do we do this?
Collection campaigns give direction on needed items and provide marketing materials for groups and individuals
Monetary donations, Grants & Sponsorships let us purchase items in-country, building the local economy.
Our Goods Donations Team located in Singapore sorts, packs, and organizes the transport of donations to Siem Reap.
Program Managers in Siem Reap collaborate to distribute the goods where they are most needed.
Seeing Results
Increased enrollment and attendance, especially for junior high and high school students who have to travel distances
Families can afford to send ALL of their children to school
CFC communities increasingly recognize the value of education and are helping to purchase items where possible
Improved focus in the classroom as necessary tools are available and within reach
CFC Alumni groups provide some funding for school supplies
Goals for the Future
Increased community support in Cambodia
Sustainability of sponsorship and donations until the majority of the community can purchase items themselves