Food for Thought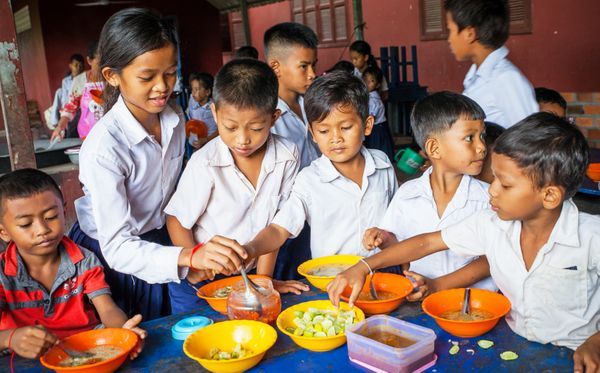 Food for Thought (FFT) provides two nutritious meals a day to thousands of CFC students – over 2 million meals per year. These meals are a reason to attend school and a primary contributor to their ability to focus in the classroom.  FFT ranks as CFC's most crucial program, according to our students, parents, and communities.
At $200,000 USD per year, this is CFC's most expensive program. The main component of the meals are Manna-Packs of fortified rice and protein contributed by Feed My Starving Children (FMSC). CFC adds fish sauce with vitamins and local vegetables. Chefs (often parents or grandparents of our students) prepare food beginning at dawn and serve students breakfast and lunch every day.
Why Food for Thought?
A recent UNESCO study found that Cambodian children are often kept at home or sent to work as early as age 7, as their families face poverty and hunger. At CFC schools, parents do not have to choose to keep their children out of school. Children eat nutritious meals twice a day, making it far more likely that they will go to school.
In a country where 42% of children's growth (USAID) is stunted due to malnutrition, and in a region with the highest infant mortality in the country, this program keeps CFC's young students healthy and learning.
The main benefits of the Food for Thought program are:
Relieves families of financial burden
Fortified meals for adequate nutrition and growth
Emergency relief for families during floods or natural disasters
Keeps students in school and able to learn
Stimulates the local economy through the purchase of ingredients
Includes healthy cooking and best practice lessons for students and families
Incorporates life skills curriculum – use of produce from 'life skills gardens' and fish raised in school fish ponds
Seeing Results
CFC maintains a customized database housing all health screening information is housed, including height and weight (Body Mass Index). We analyze the correlation between nutrition, health, attendance, and academic achievement. Reports indicate:
Reduced malnutrition: students show healthier weights and BMIs since this program began
Students attend school regularly
Students participate with more vigor and attention, earning achieve higher grades
Higher retention and graduation rates
Goals for the Future
Increasing the level of local community support
Securing donations to the endowment to maintain the program
Expanding CFC's garden program, generating ingredients and funds
Increased community self-sufficiency, reducing the need for this program