Carl's Blog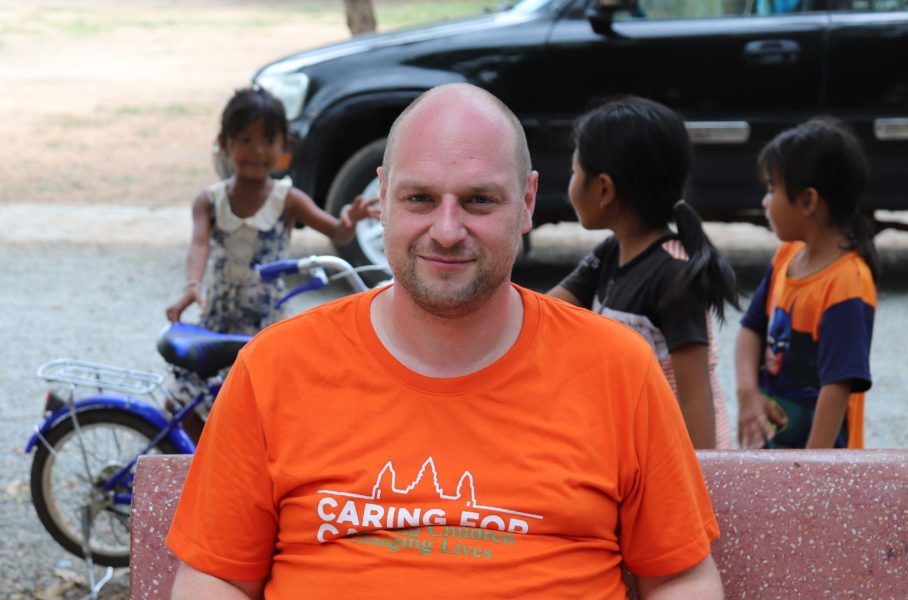 My internship with Caring for Cambodia in Siem Reap, Cambodia.
Carl, a graduate degree candidate from Belgium, began interning with CFC's Siem Reap campuses in October. Below are some highlights from his time there, in his own words.
Arrival
Six days before my internship with Caring for Cambodia, I arrived in Siem Reap. My assignment for the week? Find an affordable yet comfortable accommodation for the next four months. Before long, I found a great little apartment not too far from the centre of the town, where lots is always going on. It is comfortable, affordable, and the landlady is, just like every Cambodian I have met so far, very kind and gentle. Mission accomplished for my first week!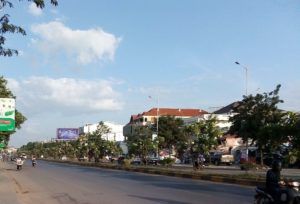 Time to get started!
My first week was spent getting acquainted with CFC as an organisation and its programs. There were numerous meetings with program managers and as many colleagues as possible. This led to some kind of information overload and by the end of the week, I was afraid I would never be able to remember everything everyone told me, let alone the names of the people I had been talking with!
Luckily, I took a lot of notes and I had amazing support from my supervisor Rebecca, CFC's Deputy Country Director. She reassured me that it was perfectly normal to feel overwhelmed during this first week and told me I would grow into it. It appears she was right! Five weeks later with this amazing team, and I am feeling perfectly at home.
A little background about me and CFC
I feel I should tell you a bit more about where I am working and what my job is while here. Caring for Cambodia is working in 21 schools throughout Siem Reap, from preschool through high school. The nine primary schools, junior high schools and high schools are public schools supported by the organisation through the various programs. The remaining 12 preschools are wholly set up and managed by Caring for Cambodia.
My main job during my internship concerns conducting research for the organisation on the subject of community involvement in education. CFC wants to hear from its parents. What are their views on and experiences with involvement in the education of their own children, at CFC schools? The information I got during the first week was meant to provide me with some context for that research.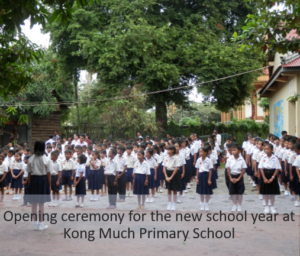 It is only fair that if I want to represent Caring for Cambodia in the community, and conduct research which involves the activities of the organisation, that I know more about what it stands for and how it all works. So, for the next couple of weeks I resolved to myself in my apartment for a literature review. Not the most exciting activity in conducting research, but it needs to be done. Luckily, Rebecca had scheduled some school visits and other events for me to attend during those two weeks.
Among others, I visited Bakong Primary and Junior High School and Bakong High School, attended the opening of the school year at Kong Much Primary School and the graduation ceremony at Aranh School. This graduation ceremony was extra special as CFC Founder Jamie Amelio was present to personally give each student her or his high school diploma.
Now this is one inspiring lady! I quickly recalled the story of how a young girl asking Jamie for a few dollars to go to school turned into an organisation supporting over 6,800 students annually in Siem Reap from my marathon reading sessions but meeting her in person really brought home the passion of the organisation!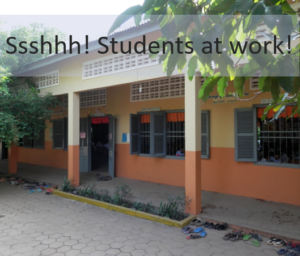 A sense of purpose develops…
Through my  interactions with local parents, it has become clear to me that the vulnerable communities Caring for Cambodia is working with have great potential and are in a unique position to positively take part in and contribute to the learning of their children. Moreover, it appears parents from the school communities around CFC schools have the desire to do so!
By the end of the fifth week of the internship, my academic research questions were decided on, the main concepts on which the research is focussing were determined, and we started planning interviews and data collection with the assistance of Rebecca and Savy, CFC's Country Director. Savy will make the necessary contacts in the community and request for the necessary authorizations to conduct research in the community.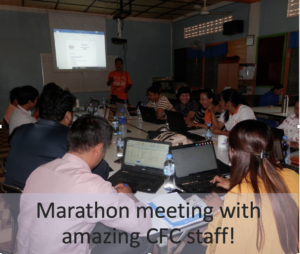 Community Involvement through the Angkor Wat Half Marathon
The marathon meetings have been amazing. In December, Siem Reap is host city to a half marathon, and Caring for Cambodia is grasping this opportunity to raise much needed funds for its activities. All program managers have set a target for their fundraising team, and everybody available has been mobilized to meet these targets. The atmosphere during the marathon meetings is really vibrant, it is clear the staff sees this as much more than part of the job. It is an amazing experience to work with a team so motivated and enthusiastic as the one with Caring for Cambodia. In just five weeks' time, the total target of raising $4,000 USD was amply exceeded!
Time for some water fun in Siem Reap
For those who haven't been here, I should explain a bit about my temporary home. Siem Reap is a hip town, always something going on here!
A couple of weeks ago there was the annual Water Festival, or Bon Om Touk here in Cambodia, a 3 day celebration of the rains which made farmlands produce the necessary livestock, and a celebration of the turning of the river. It is said this is the only river in the world which changes the direction of its water flow on an annual basis. The most spectacular event at Bon Om Touk is the three-day boat races, in which rowing teams are competing with each other for the much sought after trophies. It appeared as if the whole town had gathered on the riverbanks to cheer for their favourite rowing team, screaming them to the finish line! Great fun!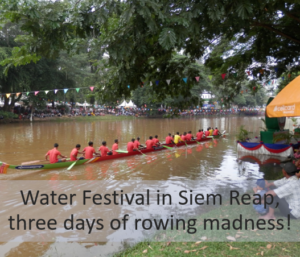 Soon the data collection for the research will start, by conducting interviews with parents. Now this will be a more exciting part of conducting research.  And Rebecca has scheduled for me to attend three days of teacher training next week, which I am very much looking forward to! I will tell you more about it next time!
Warm greetings from Siem Reap, Cambodia
Carl