Volunteer reflection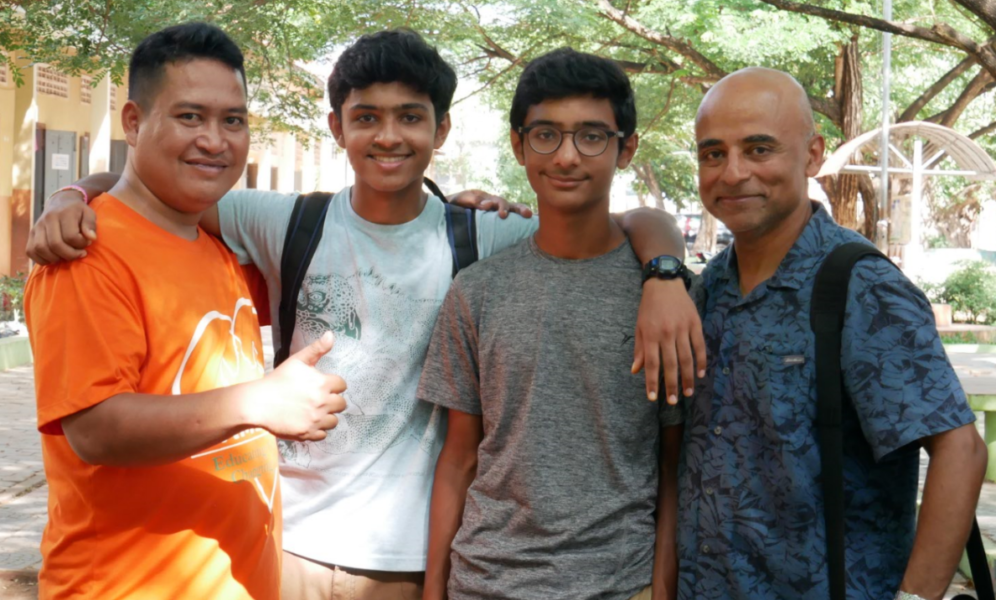 Submitted by Abe Pachikara, avid photographer and CFC supporter, who visited CFC schools in early July accompanied by his two sons. To view a collection of photos from Abe's visit, please click here.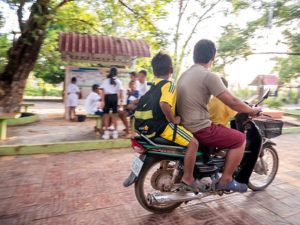 To celebrate my birthday on July 8th, I treated myself to a visit to Aranh, one CFC's schools in Siem Reap, Cambodia. Tagging along with me were my two teen-aged sons, Paul and Siddhartha. My advancing age means doing something "new" is rare. But this birthday was both novel and inspiring.
Some of what I saw reminded me of school routines in Kerala, India where I was born, and all of it fascinated me.
For example, the modes of delivery, of kids that is.
Scooter after scooter whisked onto the school property. Onboard was a busy mom or dad, with one or two school children nestled behind them. In some cases, a toddler sat nestled on the parent's lap. The bike would stop. The child or children would slide off. And with a whoosh, the parent would return home or head to work.
Many children walked onto the campus while others came in clusters by bicycle.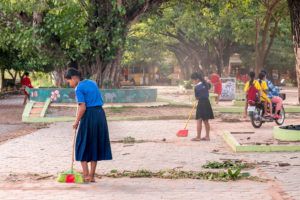 When we arrived kids were sweeping away the leaves from the grounds. Other children arranged all the sandals at the doorstep to different classrooms. The latter task was endless as kids walked in and out, dropping off and then taking their sandals. Their shared pride in keeping their school clean was so refreshing.
A steady flow of kids ambled into the back of the school cafeteria. The staff served up bowls of warm breakfast from a steaming vat of rice, noodles, vegetables. I have to say it looked great, and I had hoped to get a sampling but was too distracted to do so. The cafe filled with laughter and light conversation from the kids. That's what food does. The school superintendent told us, "The breakfasts make a big difference." He shared stories of the benefits of a full tummy. Humans are far more focused when they are not hungry. Hence, the teachers now enjoyed a classroom of kids who no longer had food on their minds. Now they could devour the subject matter. And for some kids, breakfast is a great reason to come to school. Come for the food, stay for the instruction?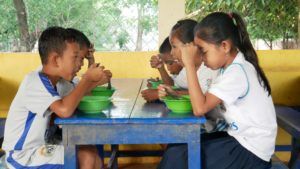 A bell clanged at 7 am and the formal day of instruction began. The throngs of students morphed into orderly clusters, by grade and class. I wish I had taken a few time lapse shots of the schoolyard over those brief moments. Two older students raised the Cambodian flag, while the remaining middle and high schoolers stood at attention. I saw rows and columns of shirts and trousers. What added to the near crystalline pattern of children? It was the fact that they wore uniforms. I have always loved the idea of uniforms for students – – it means one less way to compare oneself to others.
The day's activities then began. Exercises for the youngest grades, meditation for the 4th graders and regular instruction for the older students. I stopped by the library and saw a collection of 11th grade girls busy writing research essays. Meanwhile in the courtyard below, a set of older boys engaged in a fierce yet whimsical volleyball game. Finally we stopped by the computer lab. We arrived early and the beginnings of a modern, connected classroom. About 40 high school aged students came in, and fired up 15 laptops. The students shared the laptops, 2 or 3 to a device. Today's topic – the basics of Google Docs. Nice.
After a full day, what were some of my most important observations?
CFC's programs are great. Programs like Food for Thought and WASH are more impactful than I realized. No one likes to operate on an empty stomach. Starting the day with a well crafted meal in the company of a couple of buddies – – that's a great way to warm up to an abstract concept like "education." And in Cambodia's intense heat, it's essential to have clean water to hydrate one's self all day long, without the risk of water borne illnesses.
The U.S. Bubble, Part 1: I asked my sons what stood out for them. The older one, Paul, is entering his 12th grade, and the younger one, Siddhartha, is going into 10th grade. Paul reflected: "The students seem visibly happier than American kids, especially the older ones. I don't know why. Maybe we have too many good things, so you don't notice all that you have, or you only notice what you don't have. I think these kids see school as something special, and we don't."
The U.S. Bubble, Part 2: My sons also came away with a sense that while some things are very different, some things are very much the same. At the elementary school we visited, a girl surprised them when she asked, "Do you have a girlfriend?" and then "Do you like BTS?" Yes, K-pop is everywhere!
A laptop without bandwidth is… I saw the vital importance of basic enablers. And how hard they must be to establish. Just like breakfast and clean water are essential, creating the modern classroom requires a fat pipe to the Internet. The 15 laptops are super useful but they had insufficient bandwidth. Without a fast connection, one has an unremarkable experience when using anything online, be it G-Suite, Office 365 or WikiPedia. Think AOL in the 80s. I surmised that the students don't experience, but rather conceptualize, the meaning of "computers," STEM and the "Internet." Yet given CFC's methodical approach, I would expect that if I returned in 2 years, they will have solved this problem, as hard as it may be. First you walk, then you run, no?
The profound value of a future. Donations to CFC are making a difference. From the visit to the first school, I came away with a sense that it's not just 6,600 students being taught, but 6,600 futures being created. Walking from one grade level classroom to the next, I saw energetic kids transform into thoughtful teens and purposeful young adults – not unlike a kid in Hong Kong or Palo Alto. Education gave them a sense of what is possible. What's the value of one person who understands this and takes inspired action? Now multiply by 6,600 and you can see something of massive value, both to each of these individuals, and to Cambodia. That's what struck me the most about these programs – – education will create future influencers that carve a new path in their communities.
Ultimately, my visit was a great example of book knowledge versus street knowledge. I have known of Jamie Amelio's CFC journey for a few years and the goodness it is creating. But to have the good fortune to see it in real life? Well it's akin to seeing a photo of a great apple pie, versus walking into a kitchen where it's sitting on the counter and the aroma is filling the air. You are that much clearer that something great is in front of you. It's hard to think of a better birthday than seeing firsthand the curiosity stirred up at a few CFC schools.
Note: All photos © 2019 Abraham Pachikara.
LinkedIn: https://www.linkedin.com/in/abepachikara/
Web: www.abepachikara.com
Instagram: https://www.instagram.com/abepachikara/
Photoblog: http://occasionalinsights.blogspot.com/