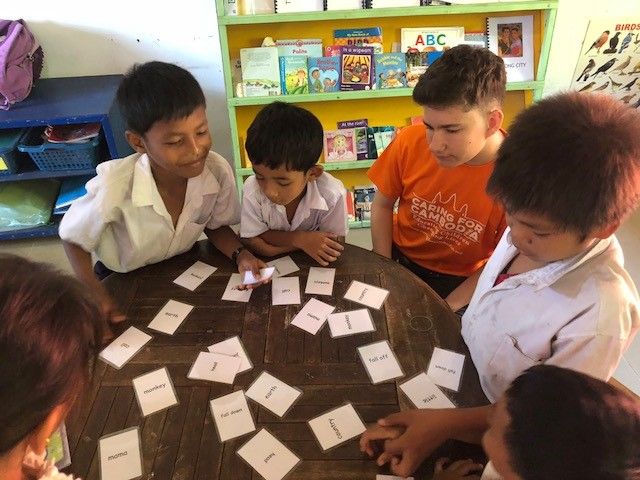 Submitted by Tom Atkinson, Year 12 student at Tanglin Trust School in Singapore.
Tom wrote this reflection after returning from his school's annual volunteer service trip in July 2018.
"When we landed in Siem Reap, we were taken to Kravaan Primary School where we would spend the next three days helping the teachers with English lessons and reading to the kids. It was quite challenging on our first day because none of us had done any sort of teaching before. It was all very new to us. Despite the language barrier and lack of experience, we all dived in to help the teacher. We found that the students really enjoyed our company as it gave them a change to practice some of their English. It was rather eye-opening to see how much the children enjoyed coming to school, as well as the warmth shown by everyone in the school and their enthusiasm for learning.
One thing that we all found quite hard was seeing children selling things around the temples that we visited, trying to earn a living for their families. It really hit me when one of the young sellers approached me and told me that I had been in their English class the day before. Although it was hard seeing what they have to go through, it gave me hope knowing that the work that CFC is doing is getting children off the streets and into schools.
It was also nice learning more about Khmer culture and food through the cooking course we did, as well as visiting local markets and Angkor Wat. All in all, I would recommend visiting Cambodia and a CFC school to anyone who wants to give something back to a country that has been through so much. It was an eye-opening experience and I would definitely go again."