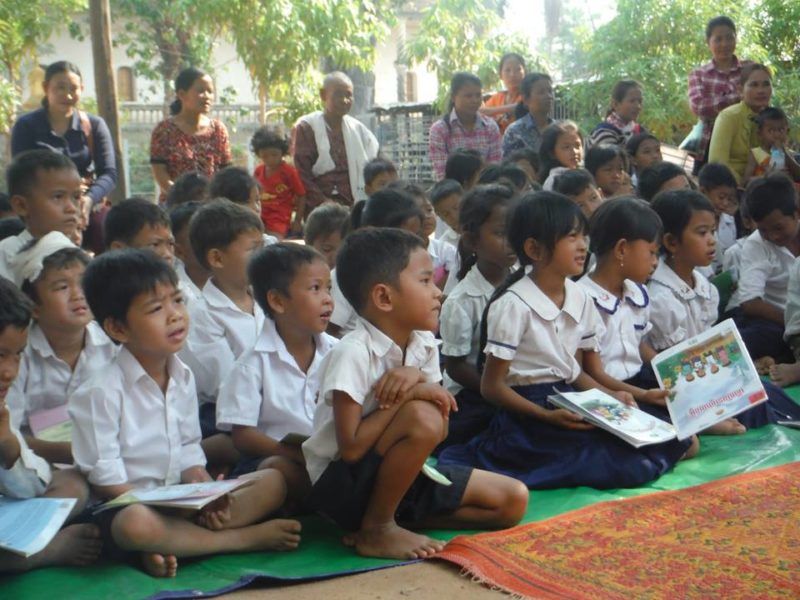 Submitted by volunteer Charlotte Sansom
Charlotte wrote this reflection after spending time in Siem Reap in August 2018 conducting research for her dissertation research. Charlotte's mother, Katie Sansom, a teacher at Tanglin Trust School in Singapore, has been an integral leader for CFC's international teacher training program since its early days.
I grew up in Singapore from the age of six and am currently in my third year at the University of Exeter in the UK studying Human Geography. This past summer, I spent 9 days in Siem Reap conducting my dissertation research with the help of CFC. My dissertation focuses on how community engagement affects the success of an NGO. I chose to conduct my research using CFC as my 'case study' educational NGO, specifically focusing on how the school can be used as a platform for participation in the local community.
During my time in Siem Reap, I was fully immersed in the CFC 'experience'! I attended pre-school sessions, observed classroom lessons and spent a morning at Aranh Sakor High School whilst a community presentation was taking place. I spoke to a variety of people working with CFC, including program managers, a Village Chief , and members of Kravaan village whose children attend Kravaan Primary School.
One particular experience stood out as a reminder of the wonderful work that CFC does to reach the heart of the community. On my final day, the tuk-tuk driver who dropped me off at Spien Chreav Amelio school mentioned that his daughter attended the school. I had the most engaging conversation with him about his daughter and how well she is doing. He was so proud of his daughter and showed me photographs with the prizes that she had won.
After I had finished at the Amelio school, I asked my tuk-tuk driver if I could interview him about his daughter's experience at the school. He laughed nervously and agreed, signing my participant information sheet and allowing me to record the conversation. All that he had sacrificed for his daughter to receive a good education was enlightening. He spoke passionately about education and its importance for his daughter's desire to go to university and maybe even live abroad. These were his dreams for his daughter. Our conversation made me realize how much schools, such as those run by CFC, encourage social mobility in Cambodia, a country which has so many opportunities for development. When he was telling me about his daughter, I commented, "you should be so proud", and I could see tears welling up in his eyes. He said he had loved studying himself but didn't have the opportunities his daughter now has. It was fascinating listening to him talk about his and his daughter's experiences with CFC. I had been hearing many of the same comments all week, but this time, they were shared by a complete stranger  – something that goes to the heart of what CFC is all about.
Thank you, CFC, for allowing me to learn about the amazing work that is taking place within your schools and the wider communities.  
– Charlotte Sansom