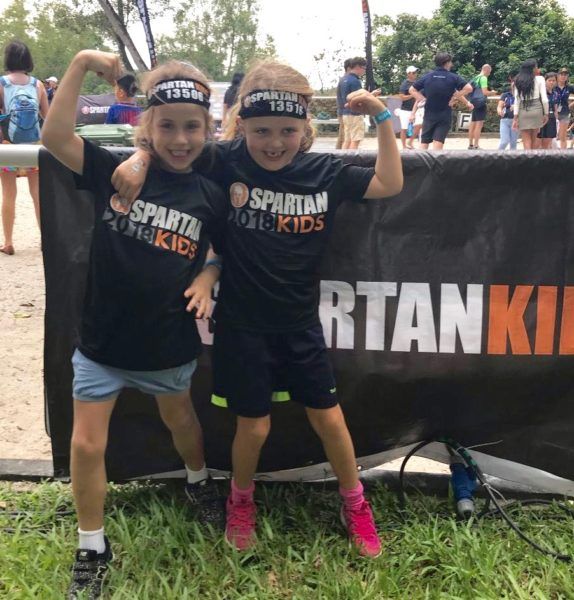 Submitted by Renee France, CFC Singapore Operations Manager
My six-year old daughter, Vivienne (Vivi), and her friend, Isabella (Bella), are both students at the Canadian International School (CIS) in Singapore. A few weeks ago, the school newsletter advertised the Kid's Spartan Race in Singapore, an 800m dash complete with various obstacles – climbing, crawling, running through mud, etc. Despite being a little nervous, both girls were keen to sign up and join the fun!
Bella's mother and I wanted to incorporate some fundraising into our daughters' muddy athletic endeavors. As I work for CFC, we chose to raise money to support CFC's Race to Better Education. We explained to our daughters that they would be raising money to help children in Cambodia go to school and learn – just like they do every day at CIS. We wanted them to understand how important "staying bothered" is, and that despite their young age, they can already be thinking about ways to help others.
Race day arrived and it was nothing less than eventful! Moments after registering and getting her t-shirt and headband, Vivi managed to lose her front tooth! I couldn't decide if this was a good bad omen for the race ahead! Then, in true Singapore fashion, a huge thunderstorm broke, and we all took shelter for an hour while the storm raged directly over head.  By the time the storm ended, the course had turned into a muddy swamp. That didn't stop our girls. They literally threw themselves into the challenge (and the mud!). As dutiful mothers, we did our best to follow them around the course, losing ours shoes in the mud, and getting covered head-to-toe ourselves.  All in good fun, and all in the name of CFC!
Both girls finished the course with smiles on their faces, and when they learned that they had raised SGD$1600, they were even more delighted. "Does that mean some more children can go to school now?," they asked. We were so pleased to tell them, "Yes!".
Completing the Kid's Spartan Race was a massive achievement for both girls, but to be able to do this and raise money for CFC was a great lesson in giving for both of them.