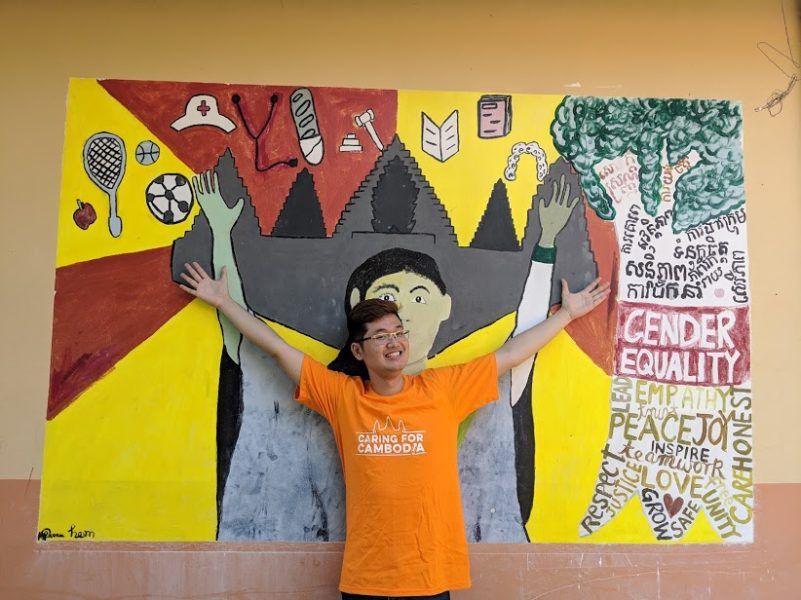 Submitted by M.C. Nguyen ("Charlie"), CFC intern (Centennial College – Toronto, Canada)

My exhaustion and jetlag were nearly gone when I stepped onto the Aranh campus, and my first impressions of the school were amazing. The facilities for the primary, middle school and high school exceeded my expectations: there were neat and spacious multi- purposes classrooms, yards and courts for sports and outdoor activities, as well as organic agricultural projects (school garden and beautiful plants and flowers everywhere). I didn't even have to worry about internet access because the school's wifi network is quite reliable! The CFC staff and students are equally amazing and they have welcomed us with sincere smiles and countless warm-hearted acts since our first day.
I am so happy to be here and to contribute, and to see a new part of the world. Volunteering abroad is going to give me a chance to help other people but also experience a new culture and surroundings. For example, it's 35 degrees Celsius in Cambodia and back home in Canada, it's minus 10 degrees Celsius – that's just one big difference!
Since I arrived here I'm reminded that it is important to discover new worlds and new friends, and it's important to give back. I really admire the CFC team for building a better future for the children of Cambodia. I promise to go the extra mile everyday that I am here to help them. I cannot wait to work with them!