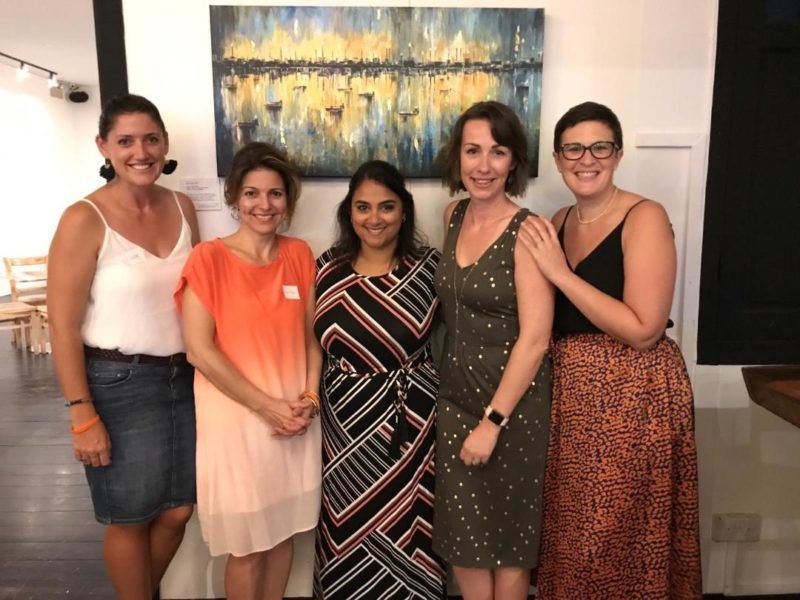 Submitted by Renee France, CFC Singapore Operations Manager (photographed, at right, with other Singapore volunteers)
Wanting to highlight the efforts of CFC's Singapore volunteer team, I decided to keep a diary for one week, focusing on the week we celebrated CFC day. Here's your behind-the-scenes look at Team Singapore!
Monday 21st: CFC Day!
I started today meeting with our wonderful Health Education committee chair, Barbara Levy, to get an update on the team's great work and our partnership with the International Medical Clinic (IMC) here in Singapore. She briefed me on the team's upcoming trip for vision screening and BMI checks, one of three annual medical screenings coordinated by Barbara's team, IMC and our Cambodian staff.
Next, I rushed off to meet with Chris Churcher, CFC Board of Trustees Chair, and Rebecca Lawson, our Singapore-based accountant, to complete some important paperwork.
My day ended with a celebratory gathering at Picotin to mark CFC Day and to honor our amazing Singapore-based volunteers. A popular restaurant on Singapore's East Coast, Picotin graciously provided our team with a delicious spread of food and drinks. About twenty-five volunteers gathered to socialize, share CFC stories and celebrate their individual roles in this amazing organization. From organizing trips, sorting donations, awareness raising and fundraising, teacher training and more, our Singapore volunteers have so much to be proud of over the past 16 years! Happy CFC Day!
Tuesday 22nd:
Today, I met with Felicia Ayling at Little Oaks Montessori School, a long-time CFC supporter. It was lovely to meet the staff and students, all of whom were wearing orange! I gave them a copy of 'Savy's New Lesson' as a small token of our appreciation for everything that the Little Oaks community does to support CFC.
Afterwards, I stopped by the Hollandse Club to leave a packet of leaflets and information for one of our young supporters from Tanglin Trust School who would be hosting a film night with his friends in support of CFC.
Back to my home office for some deskwork! I spent the afternoon writing thank you emails to all the volunteers who attended last night's CFC Day event and finalizing the first draft of our 2018 Singapore Annual Report.
Wednesday 23rd:
Took the long journey (by Singapore standards!) to the Singapore American School (SAS) to attend the CFC High School Club meeting. I met an SAS student who had participated in a service trip last year, and she shared a delightful story of how she had reconnected with her Cambodian penpal from a previous trip!
There's a storage room at SAS where we house our CFC logo items and the hundreds of donated items we receive each year. It's an amazing collection of people's generosity, and keeping it in order is a labor of love for our fabulous Goods Donations Committee! Today, I needed to find some t-shirts for the upcoming Tanglin Trust School teacher training trip to Siem Reap. I also needed to photograph the hundreds of items donated by Evolve MMA, a local martial arts gym that coordinated a donation drive for CFC over the Christmas holidays.
Thursday 24th/Friday 25th:
The last two days of my week were spent working on our Singapore Annual Report that details the many events, activities, and collection drives carried out on behalf of CFC over the past year. I spent a lot of time reviewing old Facebook posts and newsletters to gather information about CFC's 2018 activities. Since I only joined CFC halfway through the year, it was fascinating to learn just how much we accomplish over the course of an entire year to support our schools.
With the Chinese New Year holiday approaching, I've been working to find supporters who plan to visit Siem Reap and who are willing to carry donated goods as part of their luggage allowance. This may seem like a small action, but it really does save us money and gets our donated items to our schools efficiently and quickly. Now that I've had positive responses to my request, I need to get those donation bags delivered to people's houses before they travel. It is always so satisfying to get a message from my colleagues in Siem Reap letting me know that the donations have arrived and are ready to be put to use where they are needed most!