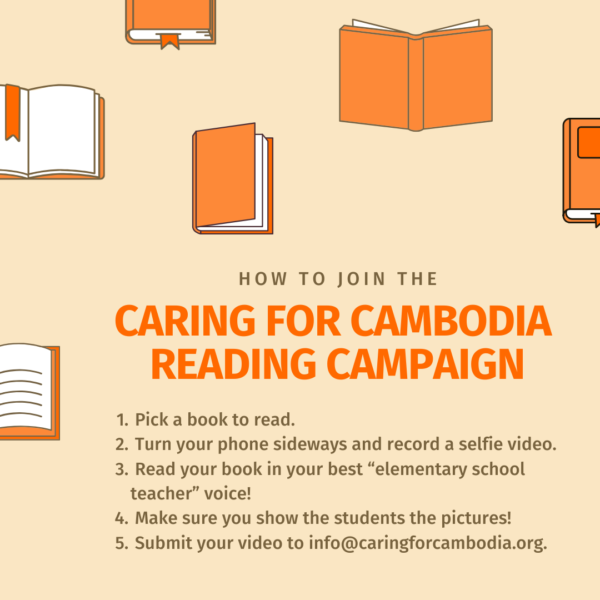 Calling all Khmer speakers!
It's easy to feel alone at a time like this. Just like our kids here in the U.S., Caring for Cambodia's 6.800 students in Siem Reap can not safely attend school right now. Our teachers and staff in Cambodia are adjusting to this new normal by developing ways to keep students engaged outside the classroom.
That's why we are asking our Caring for Cambodia community to share a video of themselves reading a children's book in Khmer! Let's show Siem Reap students that we are thinking about them, even from afar.
How to Join Our Caring for Cambodia Reading Campaign:
Pick a book to read.
 
Turn your phone sideways and record a selfie video.
 
Read your book in your best "elementary school teacher" voice!
 
Make sure you show the students the pictures!
Submit your video to info@caringforcambodia.org.
That's it! We'll upload your video and share with our students.
Don't have a book in Khmer but want to help? You can translate a book from English or send a short video message in Khmer. Our students would love to hear your kind words, like: "Keep reading!" "Don't forget to wash your hands!" "We're thinking about you from afar!"
Let's send our students a message of hope and encouragement.