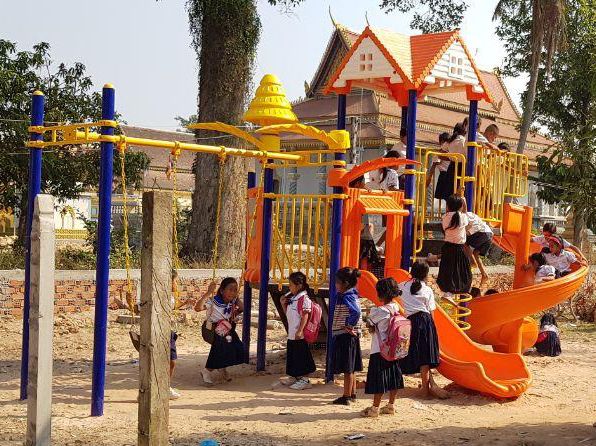 It all started with a single social media post.
Longtime CFC supporter Amanda Ramm was looking for someone to help carry donations from Singapore to Cambodia. Toothbrushes, toothpaste, and soap – things that make a huge difference to children in CFC communities.
Amanda found her volunteer but more than that, the children of Aranh School found a group of heroes.
As fate would have it, Richard and Anne Roberts were headed to Cambodia just a week after Amanda's Facebook post. They offered to take a bag of donations to Siem Reap where it would be collected from their hotel by a CFC staff person.
Eager to see the schools and the children these donations would benefit, the Roberts' arranged instead to bring the bag directly to Aranh School. Richard and Chris Ramm, Amanda's husband, are colleagues at Travelport's Singapore office and their company have been collecting toothbrushes such as the ones carried over by the Roberts' for some time.
While touring the school, Richard and Anne were delighted to see the amazing work being done by CFC staff and the education being received by the kids but they were also struck by something which seemed inconsistent with the wonderful classrooms and library.
The Playground
Aranh's playground, that all-important area where kids can release some energy between classes and get them ready to settle back into learning, was woefully inadequate. Much of the equipment was broken and the school's 740 kids had nowhere to burn off their extra energy.
Right there and then, Richard made a promise to himself that he would find a way to build a new playground for the school. Returning to Singapore, Richard brought with him pictures of the dilapidated playground and now it was the Roberts family asking the Ramm family to help CFC!
"Richard came to see me and asked if we could team up on a project to build a proper playground at Aranh School," said Chris Ramm. "Here in Singapore my children are lucky enough to have access to some amazing playgrounds and I know how important physical play is in their development. It seemed to me only right that children in Cambodia should have access to the same."
Clearing the ground for the new playground installation at Aranh School
Thanks to Amanda's involvement, Chris was already sold on CFC and saw this as his opportunity to also make a meaningful contribution to the schools. Together, the two couples decided they would fund the playground and make it a reality for those kids.
Before long, there were meetings with CFC staff in Singapore and Siem Reap to discuss a bold plan to transform Aranh School's meager playground area into one which would properly serve its students.
"These families were simply amazing, they had a vision and wouldn't be stopped from making it happen," said Renee France, CFC's Singapore Operations Manager. "We see this passion from so many families who visit the schools, you can't help but be touched by the children and the difference these schools make in their lives."
The Vision Grows Larger
Chris and Richard visited Aranh together last Fall and set about making a plan. Tours of other CFC schools revealed a need for a broader plan, one in which Aranh's new playground would serve as a model for all the CFC schools.
"Our goal was to build a playground the kids could enjoy safely, had longevity and would look great at the school to not only capture the kids' imaginations but also that of other donors," said Chris, noting the other CFC schools need playgrounds as well and hoping their efforts will inspire other donors to tackle those projects.
A return trip in December followed with the Ramm family working side by side with CFC staff and Aranh students to clear and level the ground for the project. Finally, at the end of February, Chris and Richard traveled back to Siem Reap to see the results of their work and ultimately the result of that single social media post.
Gazing at the bright orange, yellow and blue playground at Aranh School, Chris and Richard saw even more than they expected. In the students' smiles, they saw the unbridled joy of a child and in the smiles and teary eyes of adults gathered around, they saw hope for the future of Cambodia. All the result of one social media post.
To find out how you can help bring playgrounds like this to all of our schools or to find your own project, please contact Singapore Operations Manager Renee France or  CFC Development Manager Heaven Edwards.