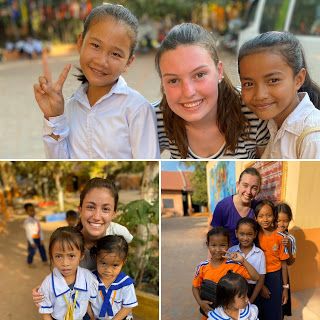 It has become a cherished tradition on two sides of the world. 
The annual Bullis School class trip to Caring for Cambodia's campuses provides students at both schools the opportunity to learn about a new culture and to see, despite their differences, just how similar they are to each other.
Spanning nine days, the 2019/2020 Bullis trip brought 16 students and staff members to Phnom Penh and Siem Reap to learn about Cambodian history, volunteer at CFC schools, and make lasting friendships across cultures. 
Packed in the teens and their chaperones luggage? More than 3,000 toothbrushes, whiteboard markers, children's books, art supplies and many more important supplies donated by members of the Bullis community.
"These supplies are so important to our ability to keep kids healthy and learning," said Loeung Sophal, CFC's Deputy Director of Outreach. "Every year we are amazed by the generosity of the Bullis students and their families."
Arriving at the schools on day four of their adventure, having spent the first three days in Phnom Penh and learning about the Khmer Rouge, the students split into two groups. One group prepared to tackle several service projects while the other set about teaching English to CFC students aged 8-13. 
"We started the class with ice-breakers like duck-duck-goose, head, shoulders, knees, and toes, and Simon Says. We then assisted the teacher with the day's lesson, working with smaller groups of students to review English vocabulary, pronunciation and spelling," wrote Gianna DeHerrera and Max Samuels, in their trip blog.
Gianna and Max noted the English lessons were great for both the CFC students and the Bullis student "teachers" as they realized they were able to make connections with kids despite the language barrier. ESL volunteers offer CFC teachers and students a wonderful opportunity to work in small groups with native speakers.
Those on the service project side undertook a wide variety of projects aimed at enhancing the CFC classrooms and campuses for students of all ages. Expenses for the projects were covered by Bullis fundraisers conducted before the trip and the students lent their muscle and creativity tasks such as painting stools, building bulletin boards and painting them  cheery primary colors to brighten up the classrooms they will hang in.
Students even got the opportunity to learn bricklaying skills as they built brick planters and even a brick wall around a community garden at Aranh School and planted crops.
"We worked on shoveling dirt and filling the garden up with the dirt. Once we finished filling the garden, we planted cabbage. The school sells the grown cabbage to raise money for the school," wrote Coley Samuels in the school blog. 
Whatever project the kids worked on, they all agreed it was a rewarding experience and created wonderful memories.
"We think all in the group would agree that working with kids at the two schools has been the highlight of our trip so far. Interacting with the kids makes us realize how grateful we are to have an excellent educational system and opportunities," wrote Gianna and Max.
Projects complete and some Angkor Wat sightseeing under their belts, Bullis students were in for a real treat on day six when they arrived at the crack of dawn to help with the Food for Thought program by serving hot meals to CFC students arriving at school for the day.
Exchanging high fives and chatting with the young students over rice porridge, the Bullis students prepared for a special breakfast of their own, a meal they would share with their CFC students they had been buddied up with and e-mailing in the months before their trip.
A walk around the campus and in the village area surrounding the school helped both Bullis and CFC students get to know their buddies better before they all returned to play volleyball, soccer and even jump rope together. Over the next few days, the buddies would get to know each other even better and such relationships have become a favorite piece of the Bullis trips through the years.
"It was sad to say goodbye to our buddies but our time with them was so much fun and we will make sure to stay in touch. This Cambodia trip has taught me so much about how important it is to expose yourself to different cultures and try new things," wrote Julia Evans.
"I had a lot of fun teaching and working at the schools and I know that all of our hard work made a difference. I will miss all of the students I met and my buddy, Pina, but I will keep the memories I made forever."
To learn more about the Bullis trip and see their amazing photos, visit their Bullis in Cambodia 2019-20 blog.