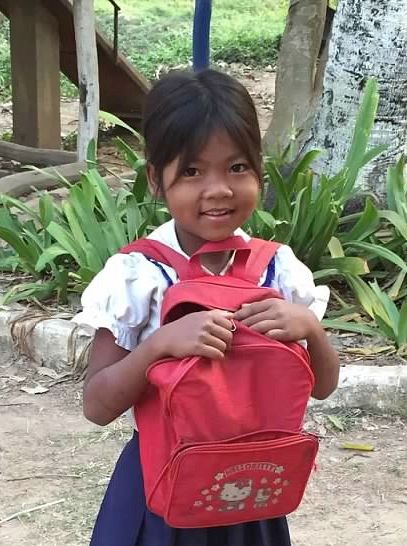 Each June, students across Singapore happily trade their school uniforms for more casual wear and begin putting away their backpacks and prepping for summer vacation.
Often the ones who benefit the most are students at our schools. In Cambodia, students are required to wear blue and white uniforms but the cost of even a single outfit can be prohibitive for many families.  In fact, uniforms are frequently cited as a significant barrier to education for children in our community, and CFC is dedicated to making sure a child's education is not interrupted due to lack of appropriate clothing. 
For many years, families at Singapore American School and Tanglin Trust School have generously donated used uniforms to be transported by our volunteers to our schools.  This June is a bit different as schools are closed and CFC volunteers are unable to move about freely to collect uniforms, backpacks, and other donated items but we're working hard to make sure those items aren't lost this year.
SAS and TTS have already agreed to help us collect items in the Fall when students return to school and we're urging families to please tuck those items away until then. Leaving Singapore to return home or to another posting? Please consider packing up those items and leaving them with a family friend who can get them to us in the Fall. 
And it's not just uniforms! Often that trusty backpack which lugged books to and from school all year is relegated to the corner of the closet before being replaced with a nice new model in the Fall. Backpacks that once graced the halls of CIS, AIS, TTS, SAS, and many other schools make their way each year to be greeted by the happy faces of our students.
Sports uniforms, in any color, are also desperately needed by our students so if you child has outgrown or won't reuse their physical education shorts or shirts, please set them aside for us to collect in the Fall.
Thanks to the generosity of Singapore families, those uniforms and backpacks so happily discarded at the end of a school year bring hope to our students. They quite literally make education possible for some families. 
"Donated uniforms and backpacks are so important for our students, many of whom walk or bicycle long distances to get to school so carrying books in a backpack is very important," says Savy Ung, CFC's Superintendent of Schools and Country Director.  "All the uniforms and backpacks go very quickly after they arrive here in Siem Reap."
Plans are also underway to institue a special buy one, donate one program for school uniforms next Fall. Details are still being worked out but CFC hopes to be able to offfer supporters the opportunity to purchase a new uniform for our students when you purchase your child's uniforms. Stay tuned!