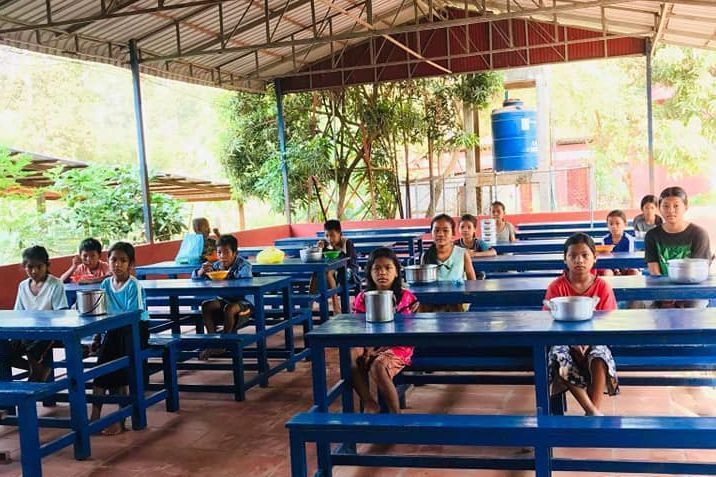 CFC knows education brings hope and a future for the children at its schools but our Food for Thought program often makes the most immediate impact on the lives of the more than 6,800 students at our schools.
Covid-19 interrupted our ability to provide urgently needed nutrition to our students as it simply was not safe to distribute the vitamin-fortified meals we serve twice daily to our students and their families if needed. Large groups of people congregating for the meals were not allowed as it could have helped spread the virus and, further complicating efforts to find a solution, our food shipment was repeatedly delayed. 
Last month, we were able to restart the cooking and distribution of those meals to the great relief of our staff and the communities we serve. As we ramp the program back up, we are now serving nearly 3,000 meals a day. Food distribution has been set up in the Kravaan and Aranh communities where those taking part are asked to send a single family member up and then take the meals back to their families to ensure cafeteria facilities are not crowded.
Occasionally, students are permitted to eat at the tables but where typically they sit elbow to elbow, they now maintain 6 feet of social distancing. CFC chefs and other kitchen workers wash hands frequently and ladle the meals into single use bags or sanitized containers brought by the families. 
The Food for Thought (FFT) provides two nutritious meals a day to thousands of CFC students – over 2 million meals per year. These meals are often a reason to attend school and a primary contributor to students'  ability to focus in the classroom.  FFT ranks as CFC's most crucial program, according to our students, parents, and communities. At $200,000 USD per year, this is CFC's most expensive program. The main component of the meals are Manna-Packs of fortified rice and protein contributed by Feed My Starving Children (FMSC). CFC adds fish sauce with vitamins and local vegetables. Chefs (often parents or grandparents of our students) prepare food beginning at dawn and serve students breakfast and lunch every day.
Why Food for Thought?
A recent UNESCO study found that Cambodian children are often kept at home or sent to work as early as age 7, as their families face poverty and hunger. At CFC schools, parents do not have to choose to keep their children out of school. Children eat nutritious meals twice a day, making it far more likely that they will go to school. In a country where 42% of children's growth (USAID) is stunted due to malnutrition, and in a region with the highest infant mortality in the country, this program keeps CFC's young students healthy and learning.