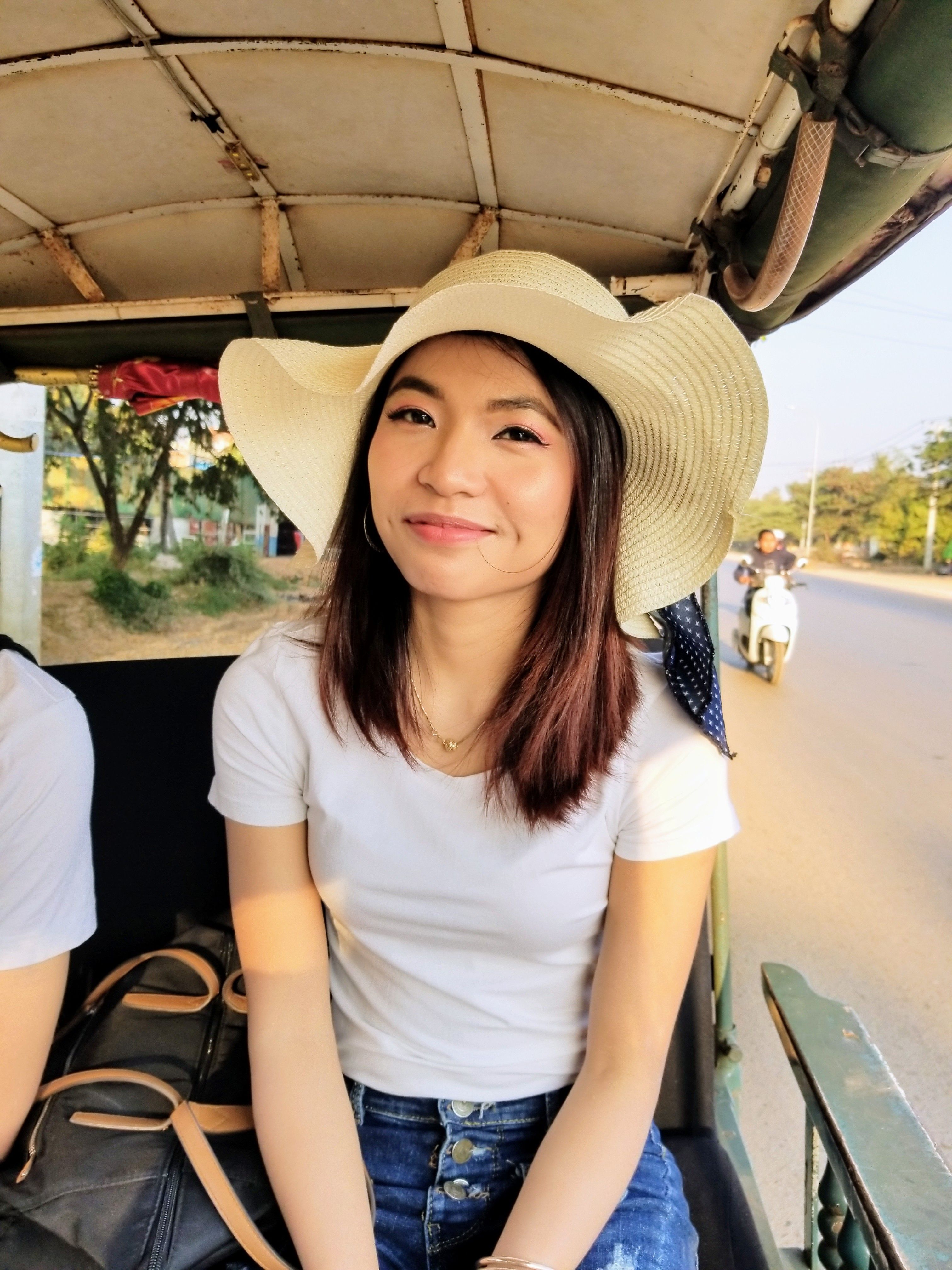 Thida Kim came to the United States in 2017 from Siem Reap to study for dual degrees in Project Management and Human Service Studies from Elon University. Thida was excited to return home this summer and work with Caring for Cambodia to impact students in her country, seeking an education and improving their lives. 
Then, Covid-19 arrived and changed the world we all live in. Thida and CFC are working together in real-time to form an internship, which allows her to make an impact and learn from her campus home in North Carolina. Below is the first installment of a blog written by Thida detailing her experiences!
Thida, who will begin her senior year in the fall, plans to spend 6 months working in the United States following graduation from Elon to get more experience before returning to Cambodia and working with CFC or another NGO focused on helping the children in Cambodia.
"I really enjoy working with children and I feel they are the generation that will impact the future of Cambodia and the world."
Week One
I never thought I would be doing an internship halfway across the world from the internship site, but here I am, already on my second-week doing a remote internship with Caring for Cambodia. As nervous as I got before starting the internship, I have to admit the experience is way smoother and satisfying than I could hope for.
I have a tiny fear of online work that I have been trying to suppress in my subconsciousness for a while now. The fear started two summers ago when I took a 300-level course in Management. I was a rising sophomore and that was my first time taking online classes as well. I struggled a decent amount, though I hate to admit. I felt like I was floating in the unknown, trying to hold onto the minimal guides that my professor provided. It was not enough, and I felt lost and low on motivation for the most part. 
After the summer was over, the fear lingered in me, and I cringed every time somebody mentioned "online courses". As fearful as I was, I am equally stubborn, so as my second summer approached, I took three more online courses to test my limits and to attempt to dismantle the new fear I had acquired. I guess when I went into the summer with that much fear and determination, I braced myself for the worst, and that actually helped me. I ended up flying through my three summer courses with ease and came out unscathed. I gained back my confidence, and though some parts of the fear remain, I knew I could go through it again even if I might not enjoy it as much as an in-person classroom setting. 
When I applied for an internship with Caring for Cambodia, despite still applying to various scholarship opportunities that will pay for my flight to Cambodia, I was 90% sure, I would be able to head back to my home in Cambodia and enjoy this experience hands-on. A month after I took on the internship offer, the lockdown for COVID-19 started.
As my international friends started boarding their flights home, I was stuck in the zone of "who is paying for my flight home?" and "what is going to happen to my study and internship?". When the Trump administration announced the suspension of immigration, my answer was loud and clear: I have to stay. 
Fortunately, Caring for Cambodia agreed to let me do my internship remotely. To be honest, I was a bit nervous at first as always, but I was convinced it could not get any worse than my first online class two summers ago. So here I am, finishing the second week and continuing strong. So far, I have been taking three calls a week combined from Rebecca, my main supervisor, and Jeudy and Lay, my Career Preparation Team supervisors. While Rebecca's calls as of now are mainly to check in with me, Jeudy's and Lay's calls have been detailed projects and tasks that I have been assigned.
This week, I worked on a project concerning scholarships and alumni gatherings. Jeudy mentioned that it would be helpful for me to compile some resources on scholarship opportunities and the kinds of essay and interview questions asked to obtain those opportunities. He also raised concerns over alumni gatherings and requested any inputs to improve the attendance rate and make it accessible to more CFC's alumni.
At the end of the week, I sent in a PowerPoint presentation that entails scholarship opportunities and organizations in Cambodia, interview and essay questions, and online resources that students could follow to be kept up to date. I also made a brainstorm sheet on some ideas that could enable alumni from different parts of the countries to join and how they might be of contribution to upcoming graduates through voluntary mentorship programs.
Though I wish I could contribute in other ways physically, I am happy that technology allows me to do this much. As of now, I am satisfied with the way the internship is run because I feel that communication is adequate, and I am extremely happy that my supervisors provide me with sufficient context and clear guidelines for my project, and their effort to help keep me on track. Jeudy is really good at getting back to me on any questions, concerns, and feedback for my project, and most importantly, I have not felt lost yet.
I am looking forward to next week's accomplishment as I had been assigned a new project. Jeudy and Lay requested that I make several short clips of my story, how I secure the scholarship I have today, and my life at Elon to inspire students back in Cambodia that it is possible to come here from nothing. I look forward to work on this project and to witness how my story could impact young adults with the same background as me because, for a lot of us, many things seem impossible without resources and someone to look up to.