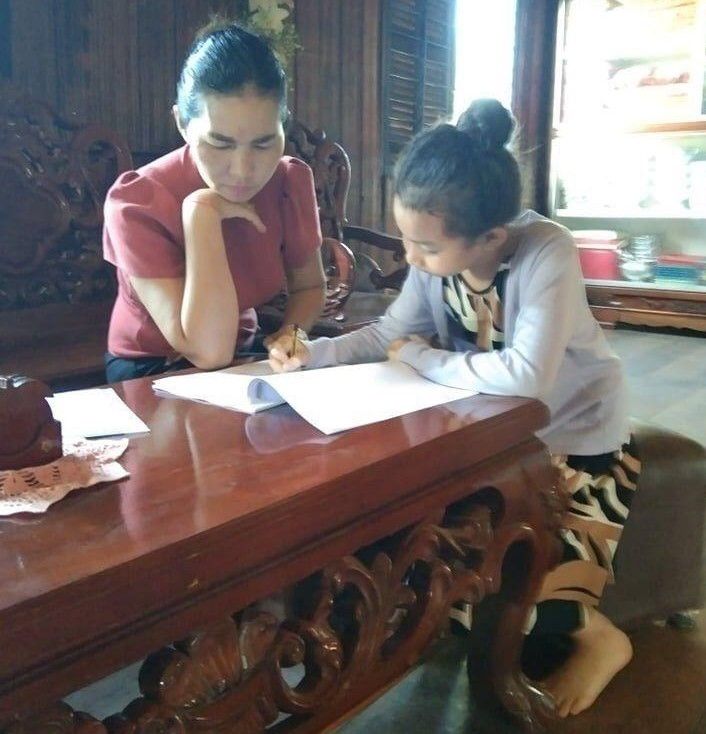 Closing school in Cambodia represents far more than an inconvenience for parents and boredom for students. 
In Siem Reap Province, where poverty already grips 45 percent of the population and the lasting effects of genocide mean there is no tradition of education, closed schools threaten to derail nearly two decades of work to bring prosperity and hope to the region's youth.
This is what parents like Mealea fear most. 
Her children, Sereykatya and Srerykakda, are in the 3rd and 5th grade at a Caring for Cambodia (CFC) primary school. Both love school and do well in their studies but with school closed much of their progress was in danger of slipping away.
"All our children in the village became careless with their studying and began to forget lessons they learned,' said Mealea, describing the early days of March as Covid-19 forced schools to be closed and families to stay at home.
Thanks in large part to a CFC bedrock principle of hiring local administrative leaders and teachers while also providing them with training from international teachers, our schools were prepared to meet the challenges faced by parents like Mealea. 
CFC teachers and staff immediately began working to develop methods to reach their students and keep them engaged. Learning to work remotely themselves, our resilient staff quickly developed printed lessons and homework packets for distribution to students in the villages we serve.
"These document papers, resources, and tests are really important for my son and other kids to learn and research," said Srey Rath, mother of Virak, a 5th grader at Arnah Primary School. "I am very happy to see my son learn at home during this bad time. I was afraid that my child will forget the lessons, be careless, and just play all the time. That is why I am so excited that he is still with his books." 
True to our tradition as a role model for Cambodia's schools, we're sharing our homework packets and lessons. First, neighboring communities came asking for the packets and lessons, and now they are being distributed across the entire province.
With your help, we truly are changing lives and bringing hope to an entire generation of Cambodian children. Those children will bring even more hope and change to the next generation and those to the generation after them. In this way, we are creating a tradition of education and a groundswell of change in Cambodia.
Please help the children of parents like Mealea and Srey Rath and all the children of Cambodia by donating here.