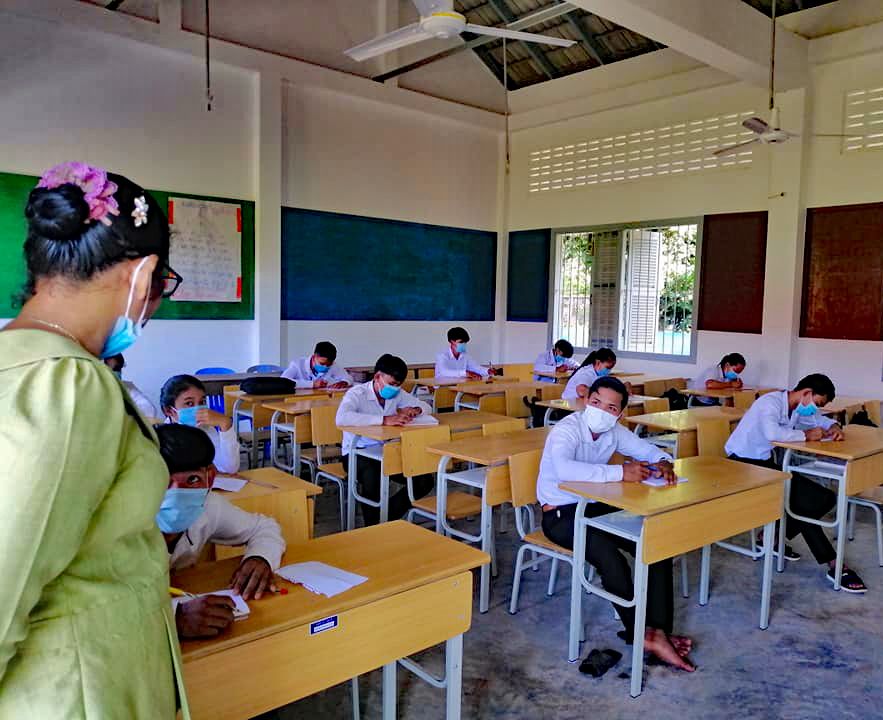 Schools are Open!
Almost six months to the day after closing, Caring for Cambodia's campuses again rang out with the joyful noises of children reporting to school.
Things look different - there are more handwashing stations, kids are in masks, and everyone needs a temperature check before stepping onto campus - but everyone from the youngest students to parents and teachers is thrilled to be back together and learning in person.
"This is so exciting for everyone and so important for our children," says Ung Savy, CFC's Superintendent of Schools and Country Director. "The 9th and 12th grade students especially need to be back in school and are working hard to pass their national exams in December."
Students are attending school in person two days a week, with the total student population separated into 3 different groups to limit class sizes, and continuing their at-home learning the other days. The interrupted academic year will now conclude in December followed immediately by the school year which normally would have begun in November.
It's a challenge for teachers and students alike but all are eager to resume normalcy for the community and help CFC's 6,800 students continue their progress towards receiving their life-changing education. Handwashing stations have been added throughout CFC's campuses to allow everyone to remain vigilant about good sanitary methods, classrooms are being limited to 15-20 students, and all students are maintaining social distancing of six feet when in the classroom or on campus.
Students across Cambodia have returned to school, or will return in the coming weeks, but CFC's students are better prepared to resume than most. Cambodia's Ministry of Education, Youth and Sport has commended CFC for its immediate implementation of homework packets for all grades and its innovative approach to digital learning through DingTalk, a mobile app our teachers and staff have been adapting to bring lessons and homework help directly to older students.
Homework packets developed at CFC were eventually implemented at schools across the country and Cambodian Minister of Education, Youth and Sport Dr. Hang Chuon Naron has requested a presentation about CFC's DingTalk program. 
"This is a great honor and it shows not only how CFC is leading the way, but how Cambodia's Ministry of Education is dedicated to spreading these good ideas across the country," said Ung Savy.  "Our staff has worked very hard throughout this crisis and our kids are getting the rewards."
CFC is grateful for the support of its donors and volunteers throughout the years which placed our schools in a position to lead through this crisis and continue to ensure that our students receive the education they deserve.