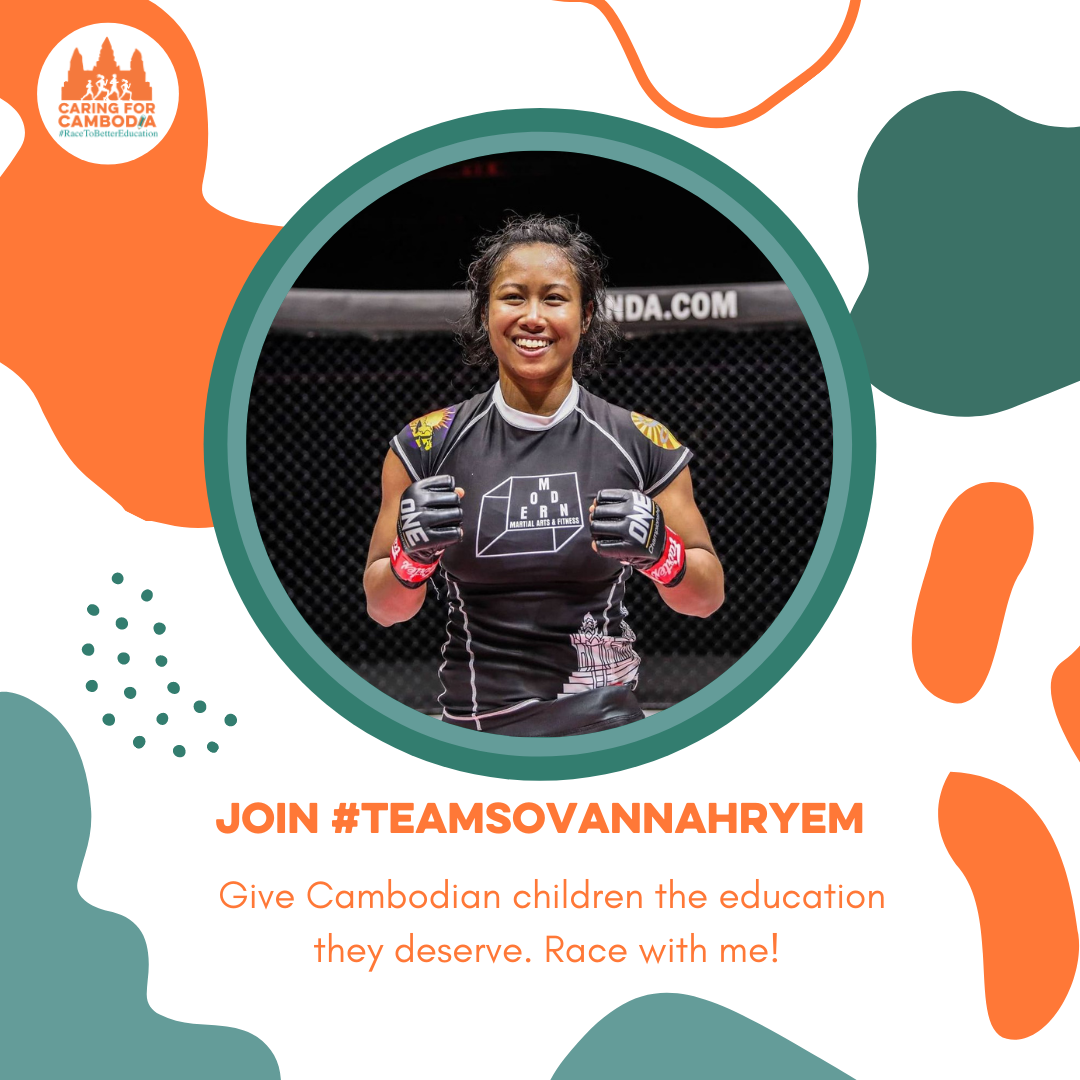 Read on for an English translation of an article that appeared in the Kampuchea Thmey Daily about Sovannahry Em, a Khmer-American and professional MMA fighter who is participating in CFC's Race to Better Education. The original article in Khmer can be found here: https://www.kampucheathmey.com/local-news/104480/.
To join or donate to #TeamSovannahryEm, click HERE!
Em Sovannahry Joins CFC to Raise Money for Children
Published April 19, 2021 by Kang Tola
Cambodian-American Em Sovannahry cannot compete as planned on April 28 against Colbey Northcutt at ONE : TNT IV on April 28 due to a shoulder injury during training.
But Ms. Sovannahry will participate in the 28-day Race to Better Education fitness challenge to raise money for children's education for Caring for Cambodia. She has set a goal of $180 USD, which pays for a child's education for an entire year.
In less than a few days, Ms. Sovannahry's participation in donating to her exceeded the target, which was up to $305.
Khmer-American MMA athlete Sovannahry, who has never visited her parents' homeland, said: "It's a Caring for Cambodia fundraiser to encourage and motivate people to donate in order to help children in Cambodia go to school, all while providing participants with a virtual tour of Siem Reap."
Caring for Cambodia (CFC) is helping thousands of children get quality education. The organization is at the forefront of helping to change the tragic history and help families rebuild their communities and country. As a model school for the Ministry of Education, Youth and Sports, CFC provides world-class teacher training, early childhood education, gender equity, and more.
All proceeds from the challenge will provide life-changing education to 7,000 children in Cambodia, as well as food and a healthy lifestyle that will give them a bright future.
According to the charity, it costs $180 for a child's education for one year, $60 for a bicycle to allow children to ride to school, $30 for two meals per day for a week for one child, and $15 for a quarterly hygiene package for a child.