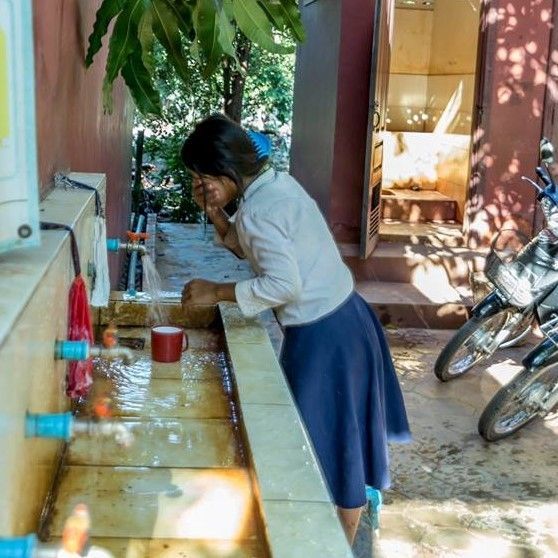 Schools remain closed in Siem Reap and across Cambodia, but our team of teachers and staff, and all our students remain hard at work.
ESL Teaching Best Practices
CFC's English as a Second Language (ESL) program has been continuing its weekly online sessions about the challenges and successes of online teaching as a way for the teachers to support each other. Each week one teacher has the opportunity to share a best practice. Recently, Danith, an ESL teacher at Kong Much, presented some apps that he has found useful in integrating into his sessions as well as the process for integration. This is another great example of our teachers supporting each other and a practice for the team to find new strategies in navigating the online teaching world. 
Career Prep New-Hire
As part of Prince Charitable Foundation's sponsorship of our Career Prep program, we have welcomed a new Alumni Coordinator, Chanthou, into our career prep team. A CFC alumnus himself, he is eager to support current grade 11 and 12 students in finding opportunities, as well as finding new creative ways to engage with and support CFC alumni students, such as networking events, job prospects, and mentorship opportunities. 
Semester One Exams Complete
After much studying and preparation, all of our schools have wrapped up the semester one exams. With all learning happening remotely, teachers and staff will use the results of this exam to help determine where learning loss has occurred, and in order to plan for teaching and learning for semester two. 
ICT/STEM
We're continuing to work with Sabaicode, and organization whose goal is to introduce computer-science fundamentals to students at a young age, and our first group of students recently completed the first part of their second course. To finish off the section, students gave a presentation about the web application they developed, such as the ICT e-learning program designed by the group of students at Aranh High School. Students have been loving the new skillsets they've acquired as part of the program and can't wait to use them after graduation in the workforce.
Health Ed/WASH
Even with schools closed, students and surrounding communities continue to use our schools' clean water filtration facilities, and the team completed maintenance on all WASH facilities this month, including giving the filter at Aranh High School an uplift and decorating the environment around the filter.
The entire team in Siem Reap is so grateful for the support of our CFC family across the world, and thanks you for your ongoing commitment to changing the lives of thousands of Cambodian children through education.