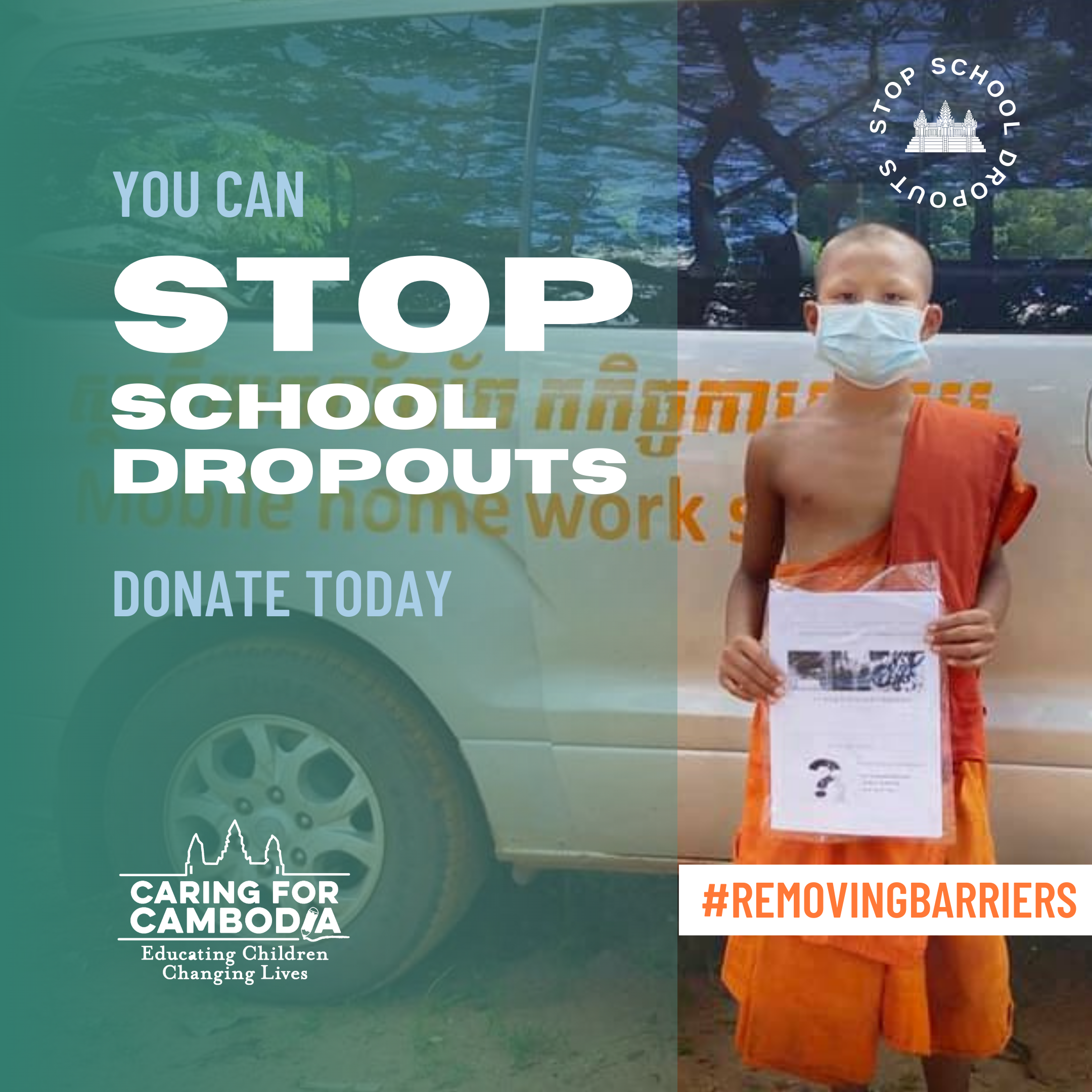 As the pandemic continues to surge in Cambodia and campuses remain closed, an increasing number of students are becoming disconnected from school and contemplating dropping out.
Our families' incomes continue to tighten, making it even more difficult to make the choice to continue their children's education over having them contribute by working. Others are moving farther away to find work or care for loved ones, and haven't been able to come to school to collect homework packets or speak with teachers. Connecting virtually to school isn't an option for many.
While dropping out of school can result from a variety of reasons, access is a primary factor, whether that's access to Wi-Fi and technology devices or simply access to teachers and homework packets. Students unable to log in for lessons or travel to our schools are finding themselves unable to keep up with schoolwork.
What is Caring for Cambodia doing about it? We're bringing school to the students! By repurposing two existing CFC vans into Mobile Homework Stations, we're providing vital school services to students until campuses reopen!
The CFC Mobile Homework Stations are equipped with everything a student needs to stay connected to school, including Wi-Fi hotspots, homework packets, PPE supplies and other resources. Families are alerted to the van's arrival by a speaker, and children run out excitedly to greet it. Homework packets are handed out as students ask questions and get help from teachers who are available either on-site or remotely through the van's Wi-Fi. Health lessons are also given, ensuring our communities have the information they need to keep their families safe and healthy.
If you'd like to help us ensure ALL our kids can continue to access CFC school services, please consider donating to our #RemovingBarriers campaign today so that our vans can keep kids connected and in school. Stay tuned for information on additional ways we are helping stop school dropouts.