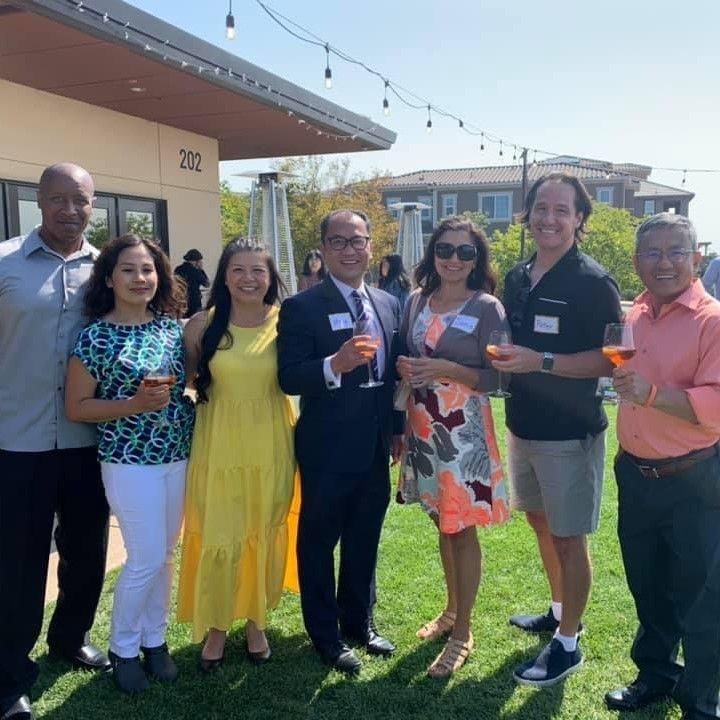 Caring for Cambodia had the opportunity to participate in two more events in September: Our special luncheon in the Bay Area September 26, and a women's conference called Women, Words & Wealth in the Dallas Fort Worth area September 28. 
A Celebration of Orange
It was a beautiful Sunday in San Francisco as more than 100 people dedicated to helping bring education to Cambodia gathered at Stonebrae Country Club for a Celebration of Orange presented by A Khmer Buddhist Foundation.
Aside from the good food and drinks, this crowd enjoyed hearing the story of Caring for Cambodia Board Member Hong Choing's life from surviving the Khmer Rouge, to enduring a Thai refugee camp, to success in America. Hong's story is one of hope, courage, and the impact of help from strangers upon a frightened boy and his family. Ultimately, it is a story of triumph and success in life fueled by generosity, education, and perseverance.
In short, Hong's story is the story of our 7,000 students who possess the perseverance and, thanks to our generous donors, receive the gift of education to change their lives.
The San Francisco event raised more than $20,000, representing the cost of educating more than 110 students for an entire year! Just as importantly, it introduced Caring for Cambodia to an amazing group of people who share our passion for Cambodia and its people. Through education, we are all working together to change the lives of a generation of children and a future for the country.
Silent auction items donated by a long list of people and businesses as well as personal donations from those in attendance ensured a success for the event as did the amazing generosity of our sponsors:
A Khmer Buddhist Foundation - Title Sponsor
The Choing Family - Event Sponsor
The Wilhoit Family - Auction Sponsor
Jenny Chea-Vaing - Wine Pull Sponsor
Kate Murphy – Table Sponsor
Mony Nop Real Estate – Table Sponsor
Savvy Soun – Table Sponsor
Thank you to all who attended and to all who donated to this event. We look forward to returning to the Bay Area soon!
Women, Words & Wealth
Then on Tuesday, September 28, Founder & CEO Jamie Amelio had the opportunity to keynote at a women's conference in the Dallas Fort Worth area called Women, Words & Wealth. Approximately 250 attendees came together to hear from courageous and successful women across multiple industries.
Jamie shared her story of first visiting and falling in love with Cambodia, and how CFC was founded. Audience members learned about the enormous impact CFC has had, and the benefits of Staying Bothered to see real change—something our supporters have shown consistently over the last 18 years as they have committed to improving the education of thousands of Cambodian children and have persevered despite challenges along the way. We have so much gratitude for everyone who is Staying Bothered about ensuring ALL children receive quality education, regardless of where they're born!
An Evening for Orange
Looking ahead, we have our signature event – An Evening for Orange – happening October 29 in Austin. Join us as we celebrate our successes over the last 18 years and help us raise a glass and toast the amazing efforts of our donors, volunteers, and our staff who have worked tirelessly to remove new barriers posed by Covid and continue to serve the 7,000 students and their families who depend on us each year. The gala will be an evening to remember with a live and silent auction, entertainment, and some surprises you won't want to miss.
There are still sponsorship opportunities as well as individual tickets available, so get yours today!
Interested in volunteering at the event? Click here to sign up!