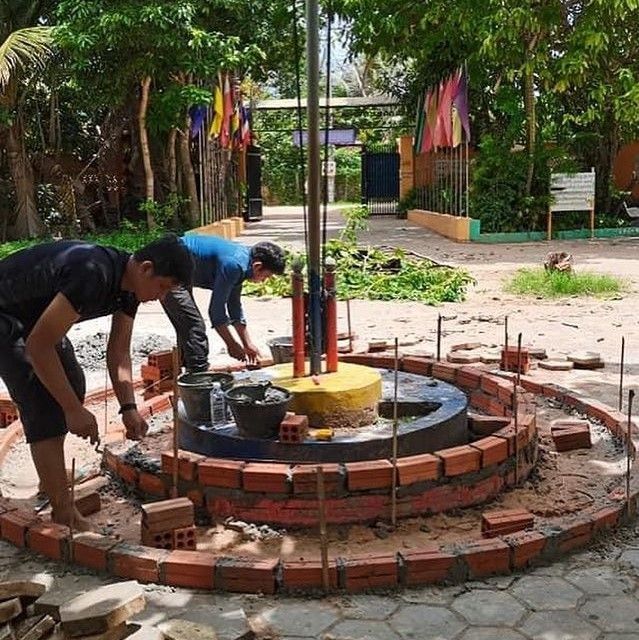 Staff and teachers remain dedicated to serving our students despite the recent increased lockdowns due to a surge of Covid cases in the area, which have made it increasingly difficult to get the mobile homework stations out to the communities. While schools have been shut, our amazing staff has been busy preparing campuses and making improvements, such as repairing the flag pole base at Amelio school, and adding new paint to the water stations at our Aranh, Bakong and Amelio schools. Keep reading to learn what else has been happening.
Career Prep
Five proud students received scholarships at Sala Bai organization. Three girls and two boys were awarded the scholarships and each student will specialize in a different area of hospitality, including cooking, restaurant management, housekeeping management, and front office.
Life Skills & Enrichment
We started a new art project in September with Molica, an artist in the US who wanted to volunteer her time to help teach art to students in need. Molica is providing extra-curricular art lessons to 20 students who otherwise would likely not get the chance. Due to lockdowns and school closures, the sessions are conducted online through prerecorded instruction videos with an activity from Molica. The students then complete the activities and send back photos to Molica, who then provides feedback and answers student questions. The first session introduced students to the concept of color by drawing an object with just one color. Students will then learn about the color wheel and move on to landscapes. The students are very eager to develop their art skills and the class is providing them with the added benefit of an artistic escape during this difficult time. The class includes a group chat where the students share their art work with each other and motivate another. If this trial goes well, CFC will consider developing a full art program that can be implemented at the high school level.
Teacher Training
Sean Sal, one of our newest mentor teachers for grades 5-6 and a former CFC student, provided online training this month to the other mentor teachers on Google forms, which are a recent requirement by the Ministry of Education. The mentor teachers are now able to cascade this information out to all teachers in order to integrate Google forms into teaching and learning practices. This is a great example of how our team is responding to learning during Covid, and how the mentor teachers are updating their skills in order to provide updated support to all teachers through technology.
ICT/STEM
Another exciting development over the last month was the continuation of our partnership with Sabaicode, where groups of our students are getting the opportunity to be exposed to in-demand skills in the area of coding, website development, and technology. The most recent course focused on creating websites, and all students participating in the program completed their course. One group, comprised of grade 12 students, finished learning about front-end web development, with Aranh students making a library website and Bakong students making an online learning website. The second group, made up of younger high school students, also made an example of a website, creating a CFC donation page and a restaurant site with food sales. Both groups will continue to be supported even after graduation with their emerging skills.