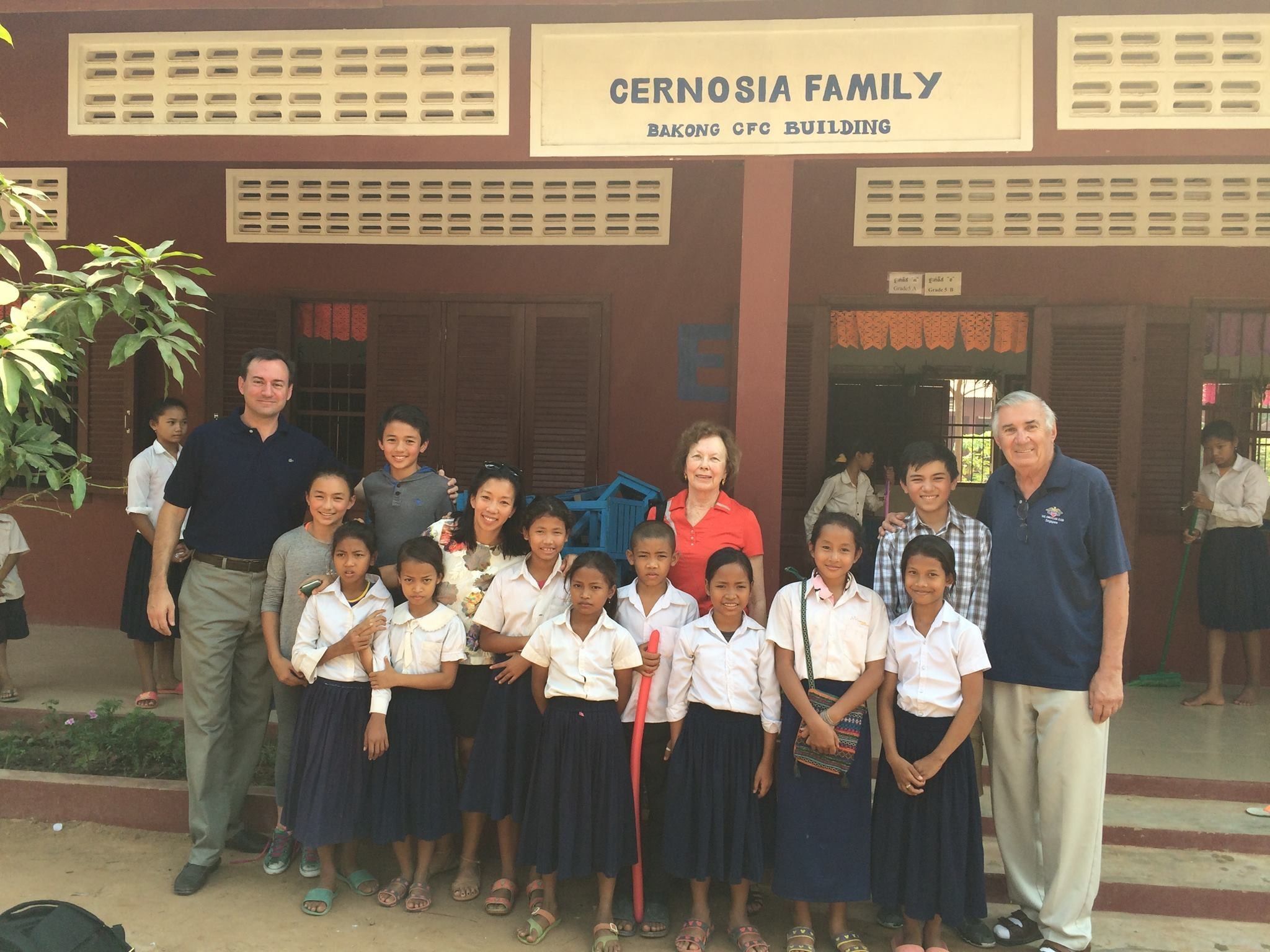 Longstanding supporters Tom and Betsy Cernosia, and their entire family, have increased their support during this difficult time by funding a much-needed project in order to create lasting change for CFC's Bakong schools.
The project, which includes rehabilitation of one of our Bakong Primary School buildings, will serve hundreds of students each day for the next 20 years.
The building has required near constant maintenance for several years as branches from a large tree overhead would fall and puncture the building's aging tile roof. Often, the branches would also pierce the ceilings of one or more of the three classrooms below and force students to crowd together to avoid debris or leaking water. Removing the trees is not an option as the local Apsara Authority has declared the trees must stay. Trimming is also impossible without a crane, which is unavailable in the area. The renovation, which should be complete within the month, will see the installation of a new steel roof frame and zinc roofing sheets durable enough to stand up to the branches.
The three classrooms will all receive new ceilings, floors, and windows as well as new doors and a fresh coat of paint inside and out. No less importantly, especially to the more than 1,300 students at Bakong Primary School, the project will also include the installation of a new playground! The existing playground, largely made of wood and no longer functional, will be replaced with a modern, maintenance-free plastic and steel playground featuring bright colors and sure to be a big hit with the students.
As an added benefit, we are thrilled to be able to use the renovation of the building to employ 10 families in the Bakong community who are very much in need of employment at a time when so much of the local economy has ground to a standstill.
The Cernosia name is well known at Bakong Primary with the soon-to-be renovated classroom sitting directly opposite another classroom building, whose construction the Cernosia family funded in 2015. That building has been serving hundreds of students each day for the last 6 years and has many, many more years ahead of it.
Thank you to the Cernosia family for their continuing support of CFC's mission.