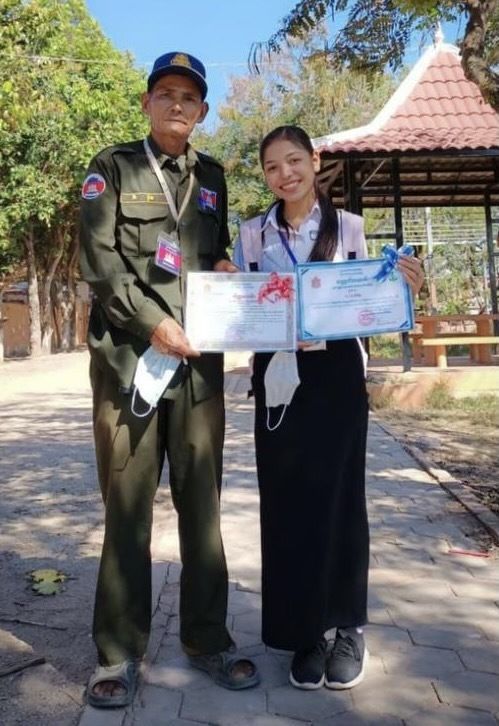 Chivorn is already a shining star at Aranh High School but she received some extra special recognition when schools reopened on January 10th.
Ministry officials attended the school opening and named her as the 2nd ranked student in all of Cambodia for an award that recognizes those who display exceptional skills as students, members of their family, and in the community.
It all began late last year when Chivon was one of just 5 Siem Reap area students invited to participate in a special program with the Ministry.
More than 200 students across the country came together for two days to interact via Zoom and work cooperatively on a variety of tasks while making new friends in the process.
"It was very special to go and compete with other schools and I was so happy to meet new friends and improve myself through cooperation with others,' said Chivorn, who is in the 12th grade.
Following the sessions, the Ministry of Education selected a small handful of students to be further recognized.
Chivorn was named the number two student across the country for this program, which rewards students who are not only leaders in the sessions but also demonstrate they are good students, good children for their parents, and good citizens in their community.
"My father was so excited for his daughter to get this certificate from the Ministry of Education, he has always encouraged me to join the student council and its activities throughout the year." 
Chivorn is very excited to graduate this year and hopes to pass the national teaching exam and become a teacher herself. If she doesn't pass the exam, she will go to university to study mathematics and work to become a math teacher after university.