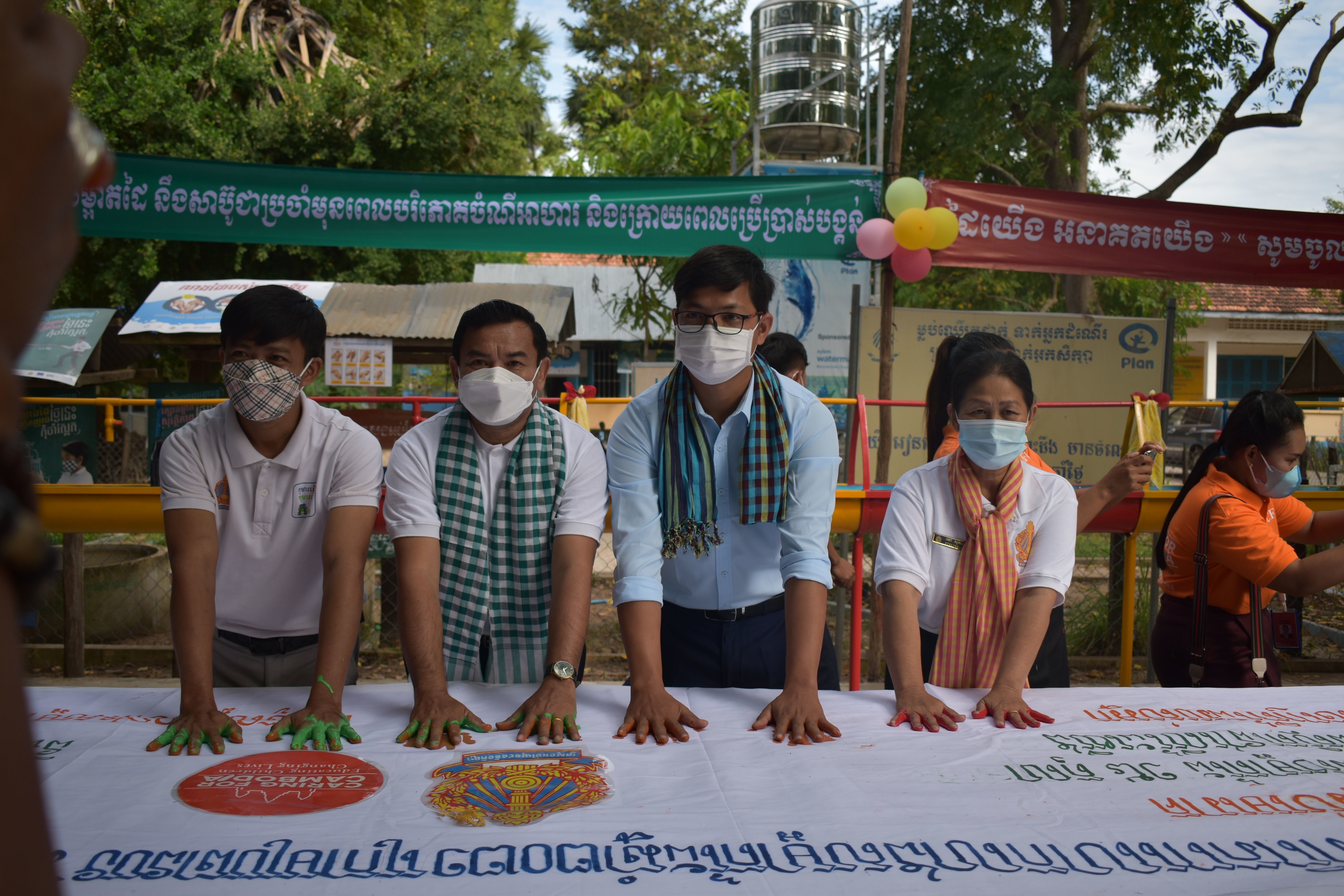 Wish our grade 12 students luck this week as they take the National exam, administered countrywide by the Ministry of Education December 27 and 28. Students may select between two exam types – the science track or social science track – and Khmer and Math feature prominently in both. All grade 12 students must pass this comprehensive national exam in order to receive their high school diploma. Despite trying circumstances and school closures over the last year, CFC students have worked hard to prepare for the exam and are eager to demonstrate what they have learned.
Here's what else has been happening on the ground in Siem Reap this month:
HEALTH EDUCATION
We're thrilled to have two new Health members join our Siem Reap team: Sin, who joins CFC as our health coordinator, and Sela, as our health educator. Both will be involved in developing the health education and WASH curriculum further, and they have already jumped into their work. Last month the duo hosted a hygiene awareness lesson at Bakong High School for students to remain safe and healthy as schools reopened, and each was instrumental in the planning and success of the hand wash event this month.
The event, which was organized by CFC and held at a local school December 18, discussed the importance of handwashing as part of overall health and hygiene, and celebrated the handwashing stations powered by clean water from CFC filtration systems in the area. Click here to view photos from the event.
EARLY LEARNING
Preschool sessions started back up last month, and it has been wonderful to see the parents and children return to our centers. During Covid, our preschool assistants continued to find ways to host parent meetings by conducting them online and integrating technology, but once schools reopened across the country, everyone has been ecstatic to be back in person. To maintain a safe environment, the team breaks the sessions into smaller groups so that we are able to connect again with all the parents and caregivers. 
ICT / STEM
Even though everyone is much happier meeting in person, the teams are taking what was learned during school closures and continuing to find ways to integrate technology into our programs. This month, the ICT team provided training to our facilitators about how to use Google Meet. Even though the sessions are back in person, the team is working hard to find ways to update the program and to provide extra support outside of the sessions.
FOOD FOR THOUGHT
With schools reopening, our much-loved Food for Thought program has moved back into our school cafeterias. We continue to follow the strict health guidelines we helped develop when Covid started and have also implemented timed meal distribution procedures mandated by the Ministry of Health in order to keep the staff and students healthy. Each grade has a specific time where students collect their food, and heightened hygiene practices are emphasized. Students then eat their meals in separate areas with just students from their own class present to minimize possible exposure and facilitate contact tracing where needed. Thanks to the flexibility and dedication of our chefs and staff, the new procedures have been working seamlessly and the program has continued to be enjoyed by all our students.
REMOVING BARRIERS
The team in Siem Reap was overjoyed to receive their first goods donation from outside of Cambodia since Covid began! Boxes of uniforms generously donated from Tanglin Trust School in Singapore arrived recently, and the students will have the uniforms distributed to them based on size and need in the coming weeks.
FACILITIES IMPROVEMENTS
Bakong Primary School's campus features a newly renovated classroom building! The work, completed in late November, will make the building safe and clean for decades to come. Thanks to funding from the Cernosia family, the building now has a new roof, clean new tile floors, new ceilings, and new doors and windows. The project also included a new playground for the students, and they're ecstatit to be playing outside at school once again. Read more about the renovation and view photos of the children enjoying their new playground here.